Climate-ready revegetation. 
A guide for natural resource managers. 
Version 2
Overview
This Guide represents a first attempt at compiling online tools available to assist natural resource managers incorporate the inherent uncertainties associated with climate change when planning revegetation activities. The information in the Guide is based on the premise that survival and resilience will be enhanced for species and local populations with large, genetically diverse populations. Species differ in their vulnerability to climate change. Species that cannot evolve and adapt to new environmental conditions in-situ as fast as the climate changes, or disperse to more suitable climes, will be more vulnerable than those with the evolutionary potential and/or the capacity to disperse. In theory, plants with wide distributions are more likely to cope with climate change than those with narrow distributions. However, even if a species' distribution indicates that it is able to tolerate a broad range of climate conditions, survival of local populations are not guaranteed.
Small populations may require genetic rescue (incorporating nonlocal genetic material) to boosts their capacity to adapt to a rapidly changing environment. The Guide provides step-by-step instructions on where to find and how to use climate projections and how to consider the suitability of species and provenances for revegetation projects (Figure 1). The consideration of factors other than climate change to determine the suitability of species and provenance selection (e.g. soil characteristics, topography and aspect) are covered in other publications and are not addressed in this Guide (e.g. the Standards for the Practice of Ecological Restoration in Australia (SERA) http://www.seraustralasia.com/pages/standards.html, or look for regional examples such as www.biodiversitygateway.com.au/SWSR_Guide/home.html).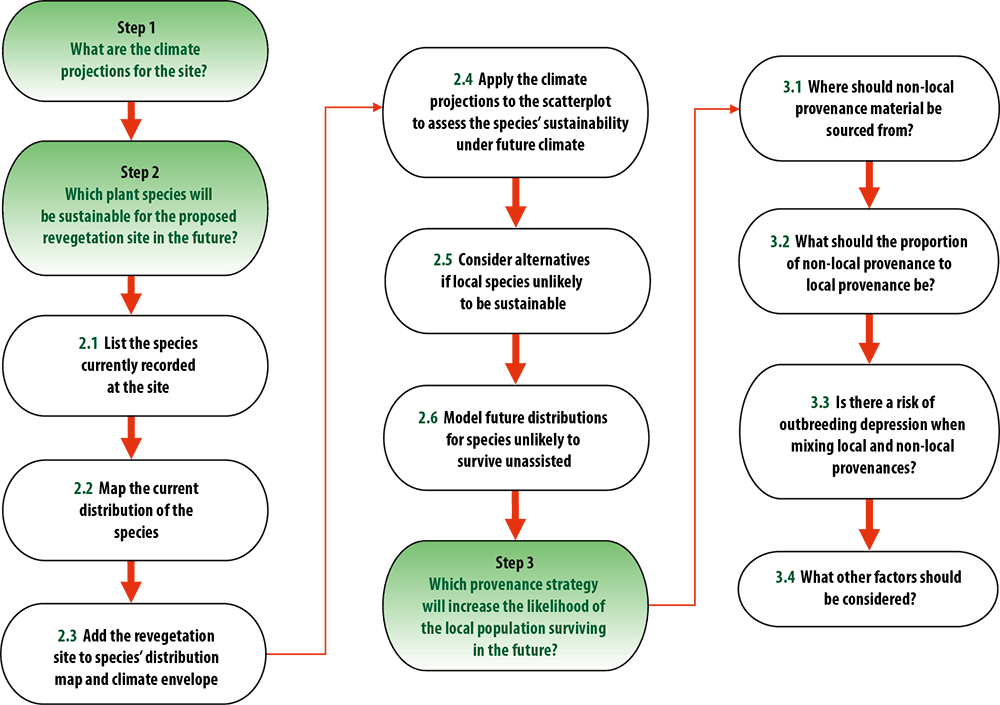 The information provided in this Guide is based on the best available science at the time of publication. It is acknowledged that there are still many uncertainties surrounding the preparation of climate-ready revegetation. It is acknowledged that it is not understood whether species are currently occupying all suitable habitat (available niche space vs realized or actual niche space), and tools such as Species Distribution Modelling (see Step 2.6) are still being developed and improved. If and when projections and further research and tools become available, users of this Guide should update their strategies accordingly.
Authors
Nola Hancock Macquarie University, Rebecca Harris Antarctic Climate & Ecosystems CRC, University of Tasmania, Linda Broadhurst CSIRO and Lesley Hughes Macquarie University.
Please send any feedback or comments to nola.hancock@mq.edu.au
Please cite as: Hancock, N., Harris, R., Broadhurst, L. and Hughes, L. 2018. Climate-ready revegetation. A guide for natural resource managers. Version 2. Macquarie University, Sydney. Accessible from: https://anpc.asn.au/resources/climate_ready_revegetation
Acknowledgements
We are grateful to Ku-ring-gai Council and the NSW Adaptation Research Hub – Biodiversity Node, hosted by Macquarie University, for providing funding for this project and the Australian Network for Plant Conservation (ANPC) for hosting the website. We thank Trevor Booth for the use of his worked example and for reviewing Step 2 of the Guide, Suzanne Prober et al.18 for the use of Figure 7, Huw Evans, Mary-Lou Lewis, Alistair Phillips, Elisa Raulings, Jim Robinson, Jenny Scott and Bindi Vanzella for providing thoughtful comments and improving the Guide, and to the staff at the ALA for their assistance. We also thank Andy Burton, North Sydney Council Bushcare, Hornsby Community Nursery and Nola Hancock for the use of their images.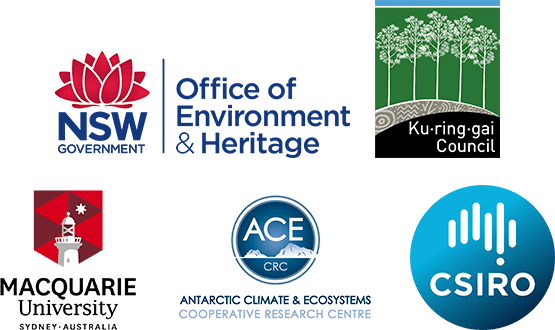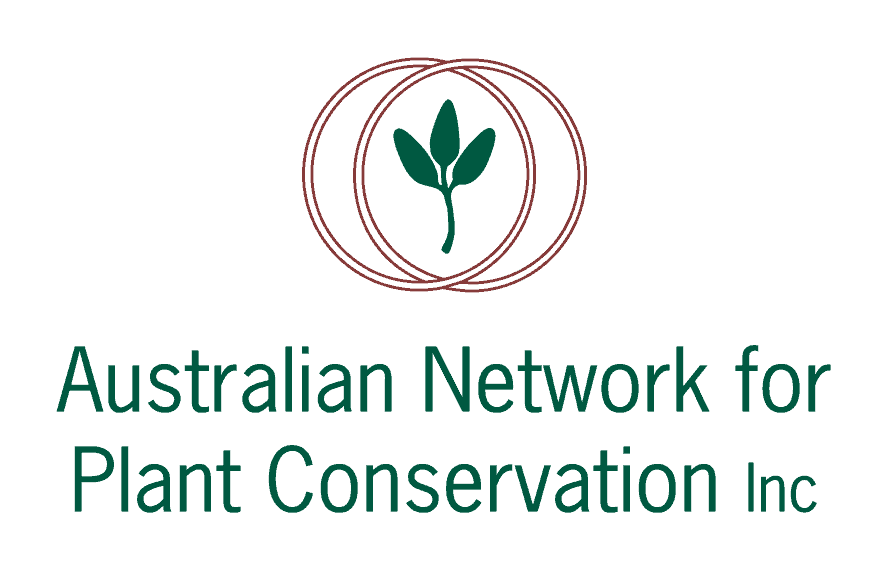 The ANPC is proud to be hosting 'Climate-ready revegetation - a guide for natural resource managers' on behalf of the authors. However its content has not yet been formally endorsed as ANPC policy. The ANPC suggests that any user of the guide should carefully consider its appropriateness to their particular circumstances. The field of climate-anticipatory revegetation is still developing, is locally contingent, and should be considered in conjunction with established best practice