ANPC Annual General Meeting held Wednesday 11 November 2020
The Annual General Meeting of the Australian Network for Plant Conservation Inc. (ANPC) was held on Wednesday 11 November 2020 over Zoom.
We thanked Dr Melissa Millar who finished her term as Secretary and was then elected as an ordinary member.
We said thank you and farewell to our committee members Dr Cathy Offord and Chantelle Doyle who have finished their terms.
We welcomed Andrew Fairney and Dr Meredith Cosgrove as new Ordinary Members of the ANPC Management Committee and thank them for their nominations. We also welcomed a new Treasurer, Grant Warner.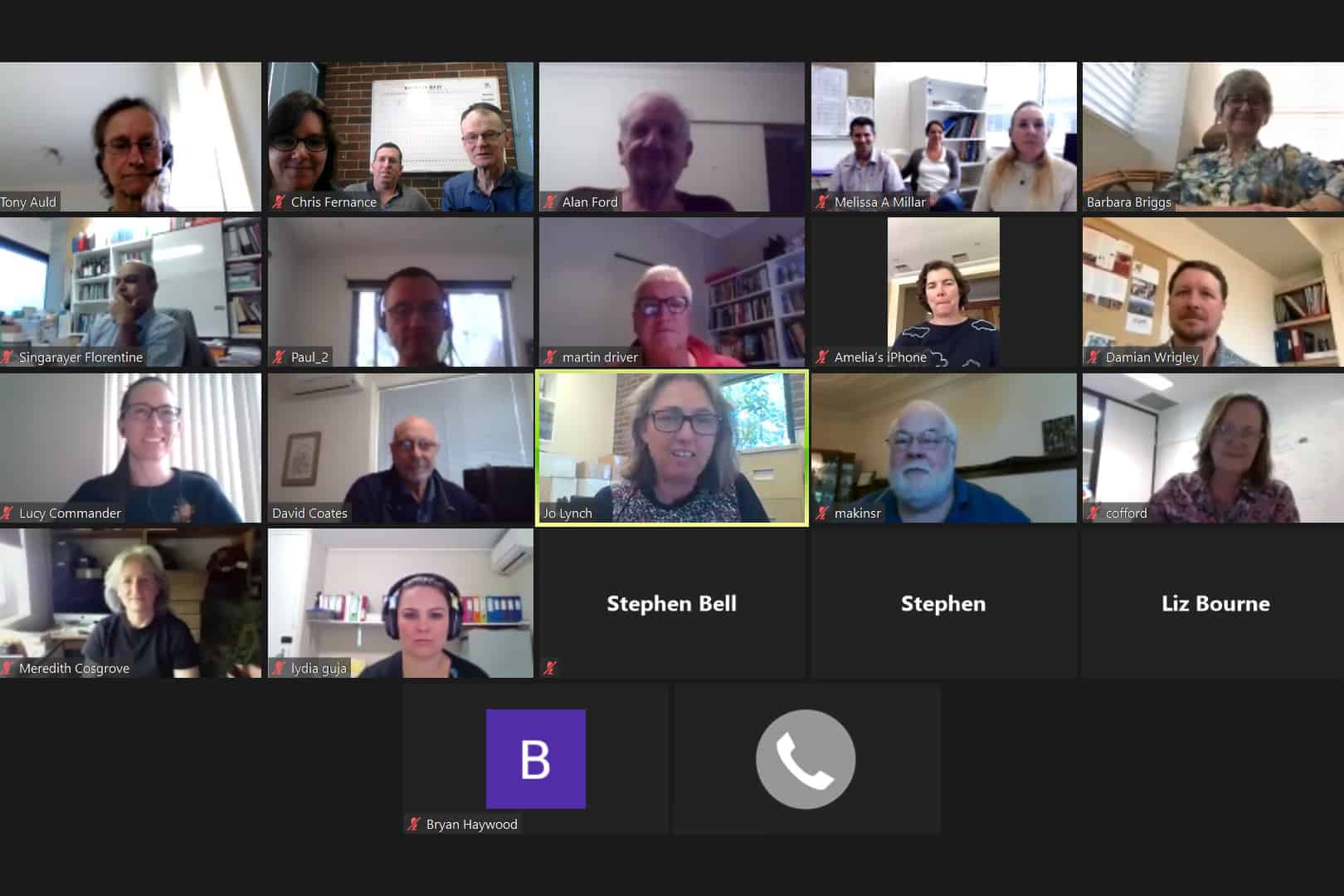 .Click here to read the President's Report on what the ANPC has achieved over 2020.
President

Dr Tony Auld
Senior Principal Research Scientist
Senior Team Leader (Management of Threats to Biodiversity)
Department of Planning, Industry and Environment
Sydney, NSW

Vice-President

Dr David Coates
Research Scientist


De

p

ar

tm

ent of Biodiversity, Conservation and Attractions


Perth, WA 

Secretary

Robert Hawes
Canberra, ACT

Treasurer

Grant Warner
Retired professional accountant
Canberra ACT

Committee members

Dr Stephen Bell
Eastcoast Flora Survey
Newcastle, NSW
Dr Linda Broadhurst
Director, Centre for Australian National Biodiversity Research
Director, Australian National Herbarium
Canberra, ACT
Dr Meredith Cosgrove
Botanical consultant
Canberra, ACT
Dr Andrew Crawford
Research Scientist, 

Threatened Flora Seed Centre




De

p

ar

tm

ent of Biodiversity, Conservation and Attractions


Perth, WA
Andrew Fairney
CEO Seeding Natives Incorporated
Adelaide, SA
Dr Singarayer Florentine
Associate Professor
Federation University
Ballarat, VIC
Dr Paul Gibson Roy
Restoration Scientist
Kalbar Resources


Sydney, NSW

Dr Lydia Guja
Manager, National Seed Bank
Australian National Botanic Gardens
Canberra, ACT
Bob Makinson
Principal Consultant
Bob Makinson Consulting
Sydney, NSW
Dr Melissa Millar
Research Scientist, Plant Science and Herbarium Program
Department of Biodiversity, Conservation and Attractions
Perth, WA

Ex-Officio member

Rewi Elliot
Secretary, New Zealand Plant Conservation Network
Wellington, New Zealand
Dr Tony Auld – President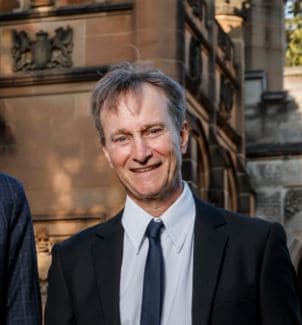 Tony is a Senior Principal Research Scientist within the NSW government and has worked in conservation for over 30 years. His research focus has been to examine how a range of threats (including for example changed fire regimes, grazing and exotic species) are impacting on the conservation of plant species and their habitats across a range of ecosystems from arid to coastal to offshore islands. He has been involved in developing policy and on-ground management for how to best mitigate threats to biodiversity. He has a keen interest in soil seed banks and the role they play in allowing or promoting plant persistence along with ecosystem restoration. Recently, he has had a focus on extinction risk assessment and the conservation of threatened plants and ecological communities, along with the development and implementation of measures to protect areas that have a very high value for biodiversity conservation (such as refugia, best remaining examples of an ecosystem, key sites for conservation of multiple threatened species and endemic species). He is a Professorial Fellow at University of NSW and University of Wollongong.
Dr David Coates – Vice President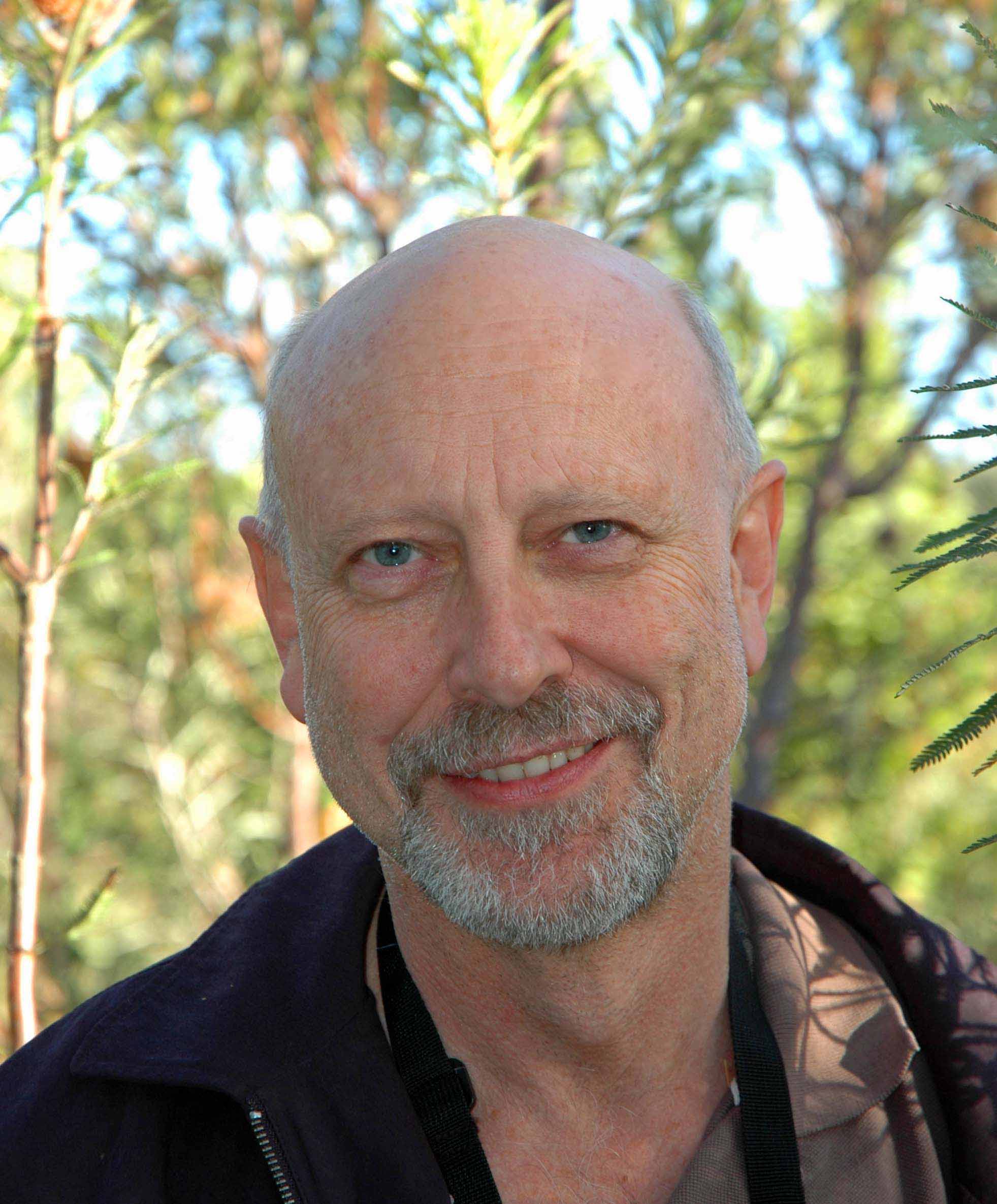 David Coates is a Research Associate in plant conservation in the Department of Biodiversity, Conservation and Attractions Western Australia. He has broad interests that cover conservation biology, conservation genetics, ecological restoration, recovery of rare and threatened species and managing threatening processes such as Phytophthora dieback and habitat fragmentation.  He currently leads a project on threatened plant translocations in the National Environmental Science Program's Threatened Species Recovery Hub and hold positions of adjunct Professor at the University of Western Australia and Murdoch University.
Robert Hawes – Secretary
Robert moved to Canberra at the start of 1986 to bec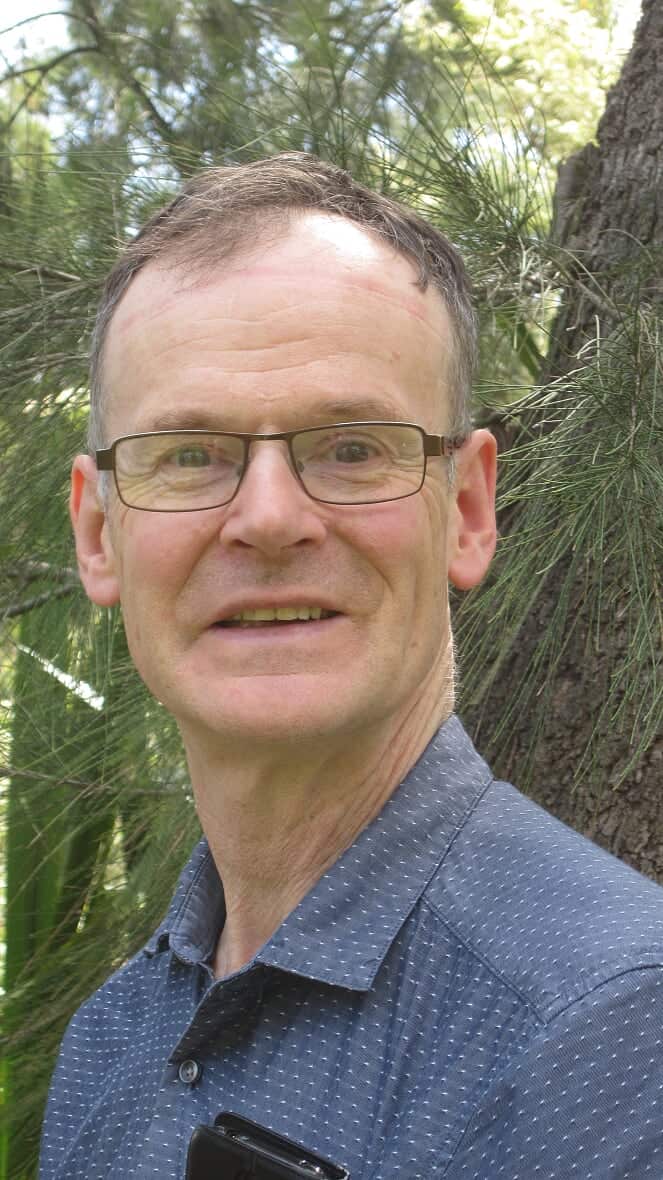 ome a computer programmer, first at ComSuper, then in 1994, he transferred to the ATO. In 2009 he retired and quickly found two volunteer jobs via Volunteer ACT. One was at RSI & Overuse Injury Association doing clerical work. He soon joined their committee, first as secretary, later as treasurer. The other was at 2xxfm 98.3 finding community announcements. In November 2012 he became their bookkeeper. He also had a one-year term as secretary on their management board. In March 2020 he resigned from the organisation. In November 2013 he became a volunteer with the Conservation Council ACT doing clerical work. In July 2018 he became a volunteer with the ANPC as their bookkeeper.
Grant Warner – Treasurer
Grant is an accountant who joins the ANPC as treasurer after 30 years of experience in the Commonwealth Government. He has worked in several agencies, building skills in accounting, budgeting, internal reporting, governance, grant administration, financial policy, procurement and process improvement. Grant was previously a board member and committee chair of the Army Amenities Fund Company. Since retiring, Grant is looking forward to assisting organisations restore and maintain the Australian environment.
Dr Stephen Bell – Committee member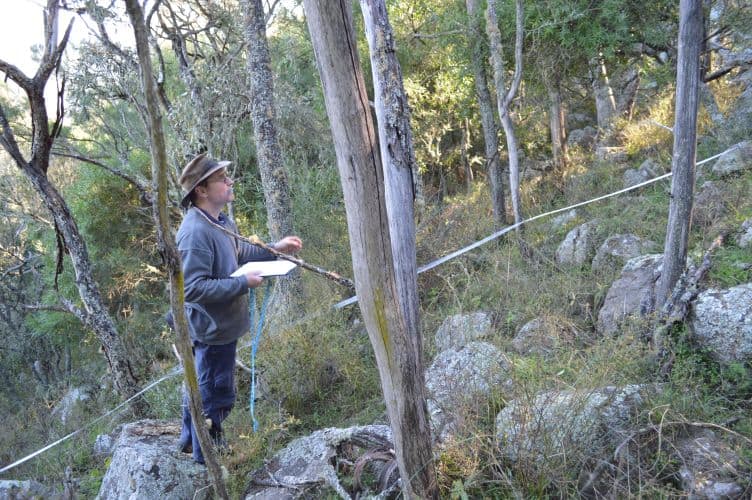 Stephen has worked full time in the consulting field since 1994, following three years of project-based short-term employment with the NSW National Parks and Wildlife Service, the University of New South Wales and other consulting companies. In 1996 he established a specialist botanical consultancy based in Newcastle (NSW), focusing on threatened species surveys, vegetation classification and mapping, and flora-based ecological research. Always one for ensuring data collected under contract by consultants is made available more widely, Stephen has published over 30 papers and articles in the vegetation ecology field, and encourages all consultants to publish whenever they can. In 2013, Stephen completed his PhD at the University of Newcastle examining rare vegetation communities, and since 2014 he has been a Conjoint Fellow within the School of Environmental and Life Sciences there. He is currently a member of the NSW Government Species Technical Group overseeing the Saving Our Species initiative, and the NSW Threatened Species Scientific Committee.
Dr Linda Broadhurst – Committee member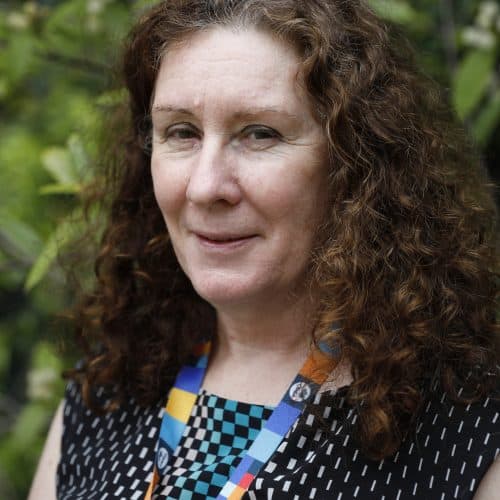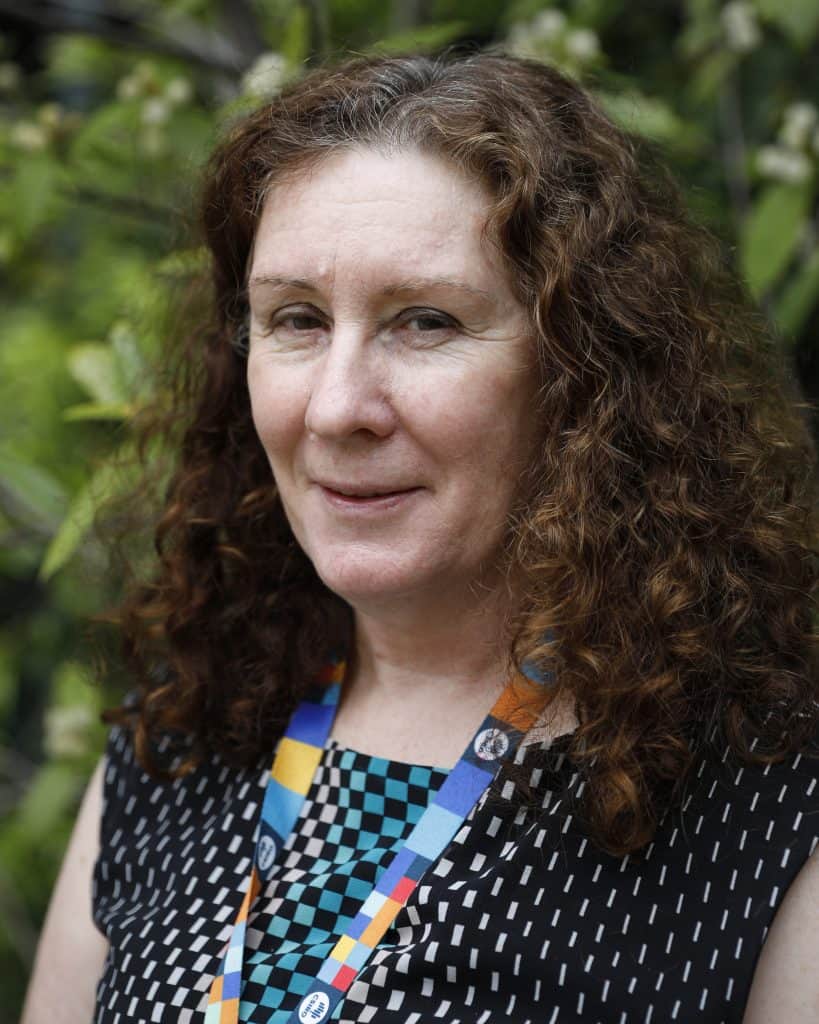 Linda is the Director of the Australian National Herbarium in Canberra, one of CSIRO's six National Research Collections. At the moment her major research interests include assessing seed production areas to ensure they are producing high genetic quality seed for restoration. In conjunction with partners including the ANPC, she is also building a project to assess where and how to restore Silver Banksia (Banksia marginata) for the Bring Back the Banksias Project. Linda was ANPC President between 2016 and 2019 and is a regular presenter at ANPC workshops. Studying human biology at university, Linda by chance took a plant biology course as part of her undergrad program and the tutor inspired a love a plants. She went to to do a PhD in the conservation of Geleznowia verrucosa, a monotypic species in WA. After working for CALM (now BC&A) in WA Linda moved to CSIRO in 2000.
Dr Meredith Cosgrove
Meredith joins the ANPC with broad experience in horticulture, research, herbaria, publishing and fieldwork. Her interests are in grassland ecology and conservation, the effect of climate change on vegetation communities, and plant life history, especially the reproductive phases of plants. Meredith works as a consultant botanist to the ACT government and the Sustainable Farms project run by the Australian National University. Also a keen photographer, Meredith published two field guides on the flora of the ACT, which are widely used by professionals and general readers. She also collects and grows seed for revegetation use.
Andrew Crawford – Committee member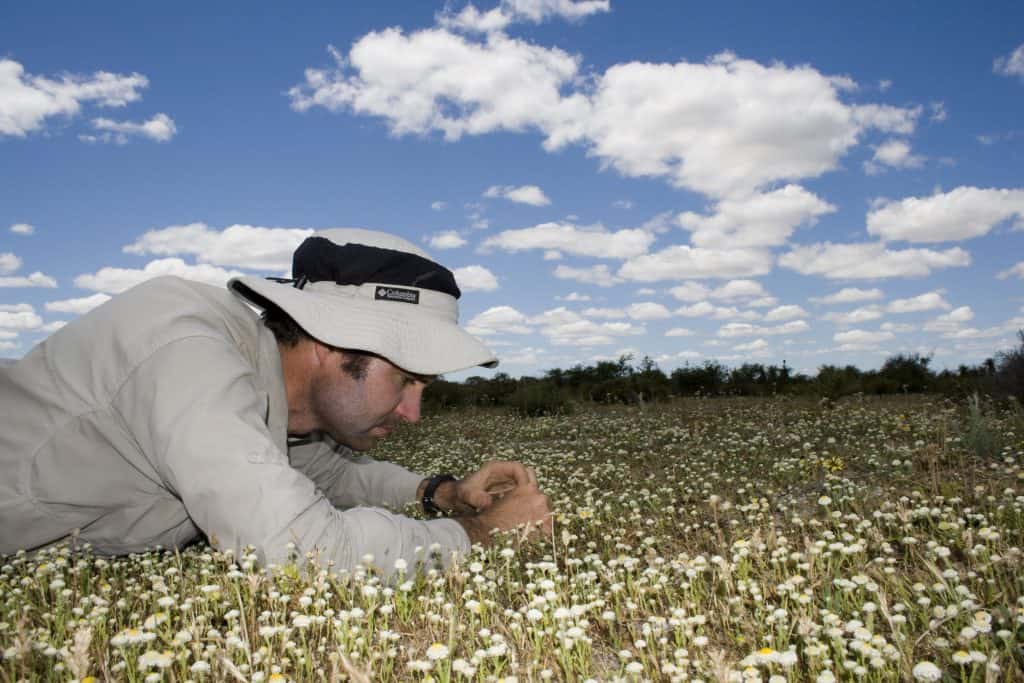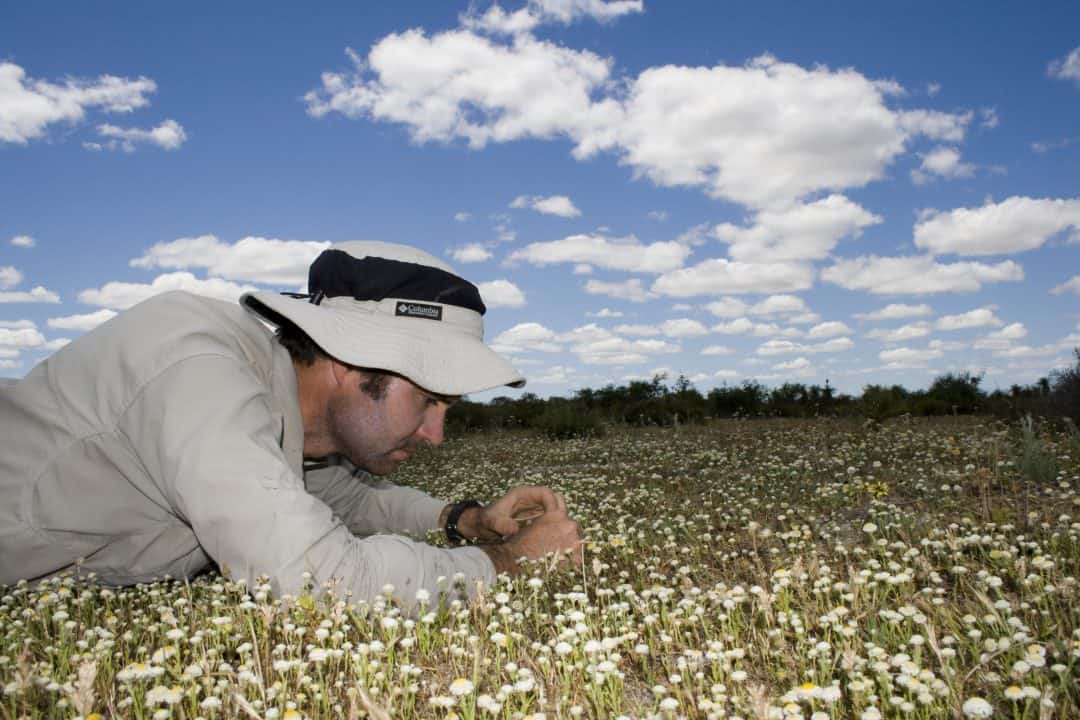 Andrew has worked at Western Australia's Threatened Flora Seed Centre (Department of Biodiversity, Conservation and Attractions) for the past 16 years collecting and conserving WA's conservation significant plant species, and has been involved with the germination of many of the threatened species grown for use by the Department in plant translocations. He has a PhD on seed storage and longevity of Australian native plant species, and was a co-author of a chapter on seed and vegetative material collection in the 2009 edition of the ANPC's Plant Germplasm Conservation in Australia publication. For the past 10 years he has taught a module on seed collection and ex situ seed storage as part of a flora management course run by the Department.
Andrew Fairney
Andrew is the founder and CEO of Seeding Natives Incorporated. This environmental charity specialises in ecological restoration of native grasslands and associated ecosystems from the ground up. Seeding Natives aims to save threatened flora and fauna from extinction, particularly in Adelaide and the Mounty Lofty Ranges. Andrew was previously a landscape gardener specialising in native gardens. He then studied environmental science and management at the University of South Australia and has spent the last decade focusing on restoration and rehabilitation of diverse native grasslands.
Dr Singarayer Florentine – Committee member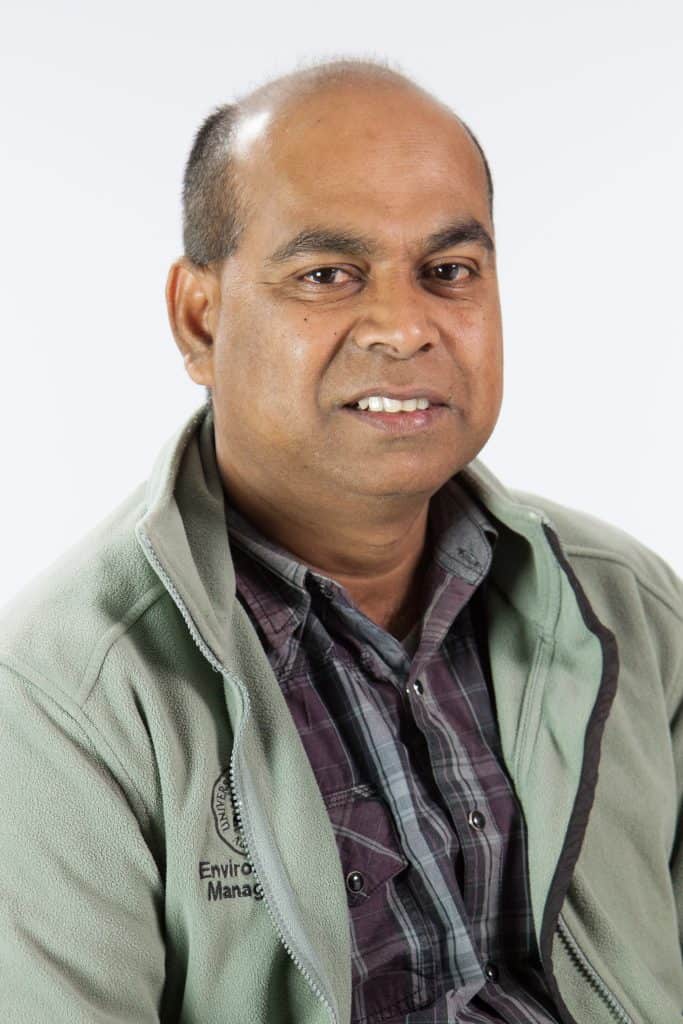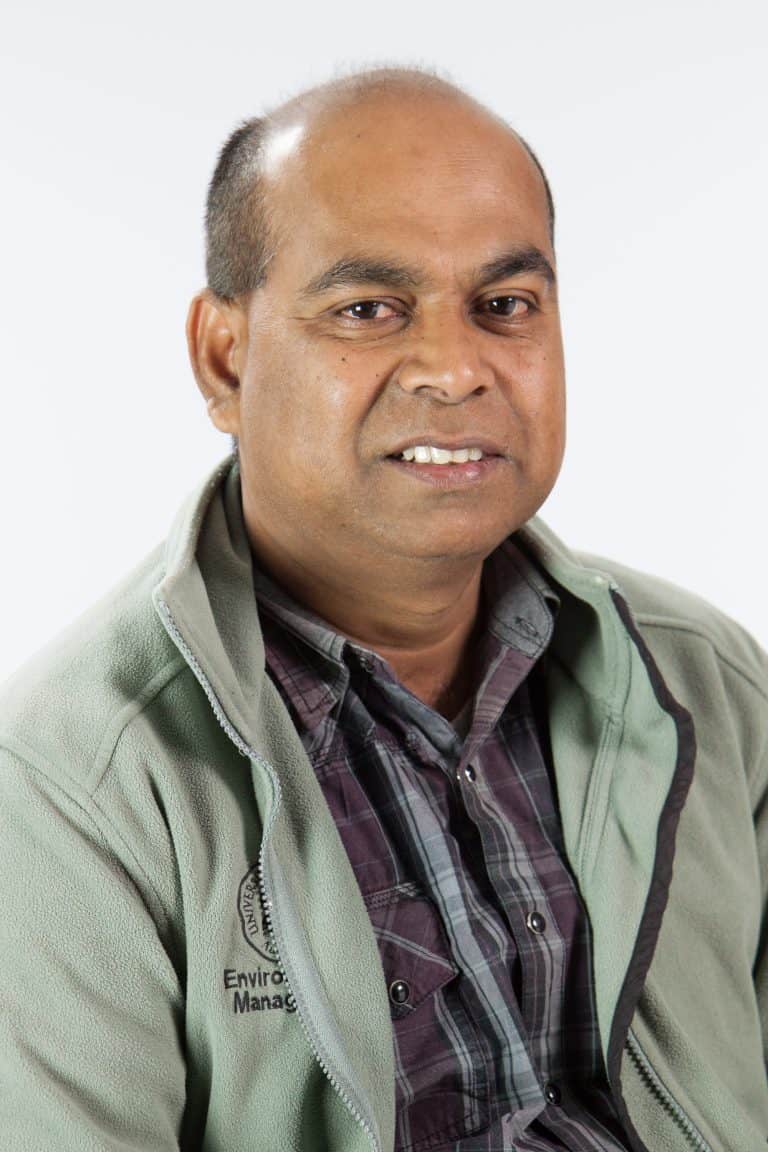 Singarayer is a restoration and invasive species ecologist with more than 20 years of experience in research and higher education teaching. He has been specialising in work on ecologically diverse habitats and has had experience in three different countries. His initial research was in Sri Lanka where he studied the impact of selective logging of tropical rainforest on native species recruitment. After earning his PhD from Curtin University he moved to Queensland where he worked as Weed Scientist with the Tropical Weeds Research Centre for 2 years. In 2000 he was appointed as a Lecturer at the Centre for Rainforest Studies where he was involved in several tropical rainforest restoratipn projects and began to conduct research into weed invasion in fragmented landscapes. For the last 14 years, at the University of Ballarat and Federation University, he has been active in a number of significant research projects, has been supervising postgraduate and honours students and has developed undergraduate studies in restoration ecology.
Dr Paul Gibson Roy – Committee member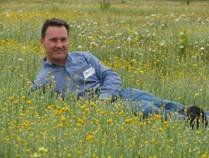 Paul has been involved for some years with the restoration of wildflower grasslands and grassy woodlands, both threatened plant communities. Since 2004 he has headed the Grassy Groundcover Research Project (GGRP), a multiregional research project focusing on the restoration of complex herbaceous vegetation on agricultural lands by direct seeding. The GGRP was initiated as a joint partnership between Greening Australia (Victoria) and the University of Melbourne. Paul is also actively involved with issues of sustainability within the broader horticultural industry and was a founding member of the industry-based NGO Sustainable Gardening Australia (SGA). Paul is strongly committed to the ANPCs goals of facilitating the network of practitioners, agencies and researchers across Australia.
Dr Lydia Guja – Committee member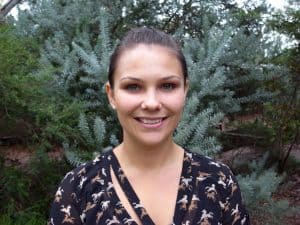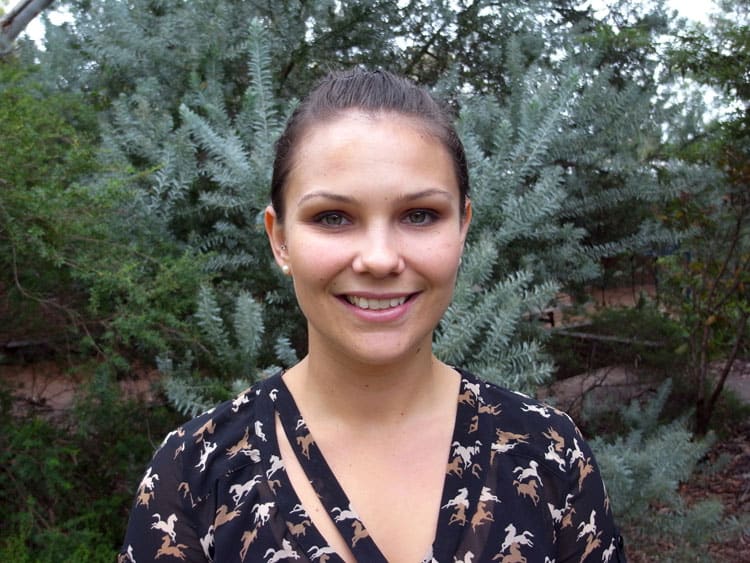 Lydia Guja is the Manager of the National Seed Bank at the Australian National Botanic Gardens and a researcher in the Centre for Australian National Biodiversity Research. During her time at ANBG she has focussed on seed collection, storage, physiology, evolutionary ecology and dormancy, and germination in the context of native plant conservation. Lydia is particularly interested in coupling long-term seed bank storage for ex situ conservation with research that enables effective seed use for conservation and restoration (e.g. alleviating seed dormancy, improving viability or germination, providing information on plant species' ecological and biological characteristics to inform in situ management or translocation). Through delivery of numerous collaborative projects Lydia has worked with many academic, government and industry partners on the conservation of Australian flora. This includes threatened species, and plants and ecosystems from across the country: the Australian alps, Western Australian coast, oceanic islands, wet tropics of far north Queensland, the arid region, and temperate grassy ecosystems of South-Eastern Australia. Lydia holds a BSc in Landscape Management and a PhD in Seed Biology. She is passionate about native plant conservation and would like to make further contributions by participating in the ANPC committee.
Bob Makinson – Committee member
Bob was employed as Conservation Botanist with the Royal Botanic Gardens & Domain Trust, Sydney for over 30 years working in plant taxonomy, herbarium management, wild-plant conservation science and practice, and science internship (volunteer) program development. He is a former Curator of the Australian National Herbarium (Canberra), and a former member of the NSW Scientific Committee (for extinction-risk assessment of species and ecological communities). He has been an active ANPC member since 1992 and is a past president. Bob is a regular presenter at ANPC workshops and wrote and presented the recent Myrtle Rust workshops. Bob is currently undertaking the Myrtle Rust `Review of Environmental Impacts & Action Plan' project, co-funded by the Plant Biosecurity Cooperative Research Centre and the Threatened Species Recovery Hub.
Dr Melissa Millar
Melissa is a Research Scientist with the Plant Science and Herbarium Program of the WA Department of Biodiversity, Conservation and Attractions, where her chief responsibilities are to conduct research that contributes to the circumscription, conservation and management of Western Australian flora. Melissa's research utilises a range of molecular genetic techniques to examine the evolutionary processes that maintain genetic diversity and shape patterns of genetic structure in native taxa. Her work contributes to understanding long term evolutionary influences of the persistence and phylogeographic structure of native taxa as well as the effects of current anthropogenic disturbances such as fragmentation and the requirements for successful long term restoration.
Dr Cathy Offord – Committee member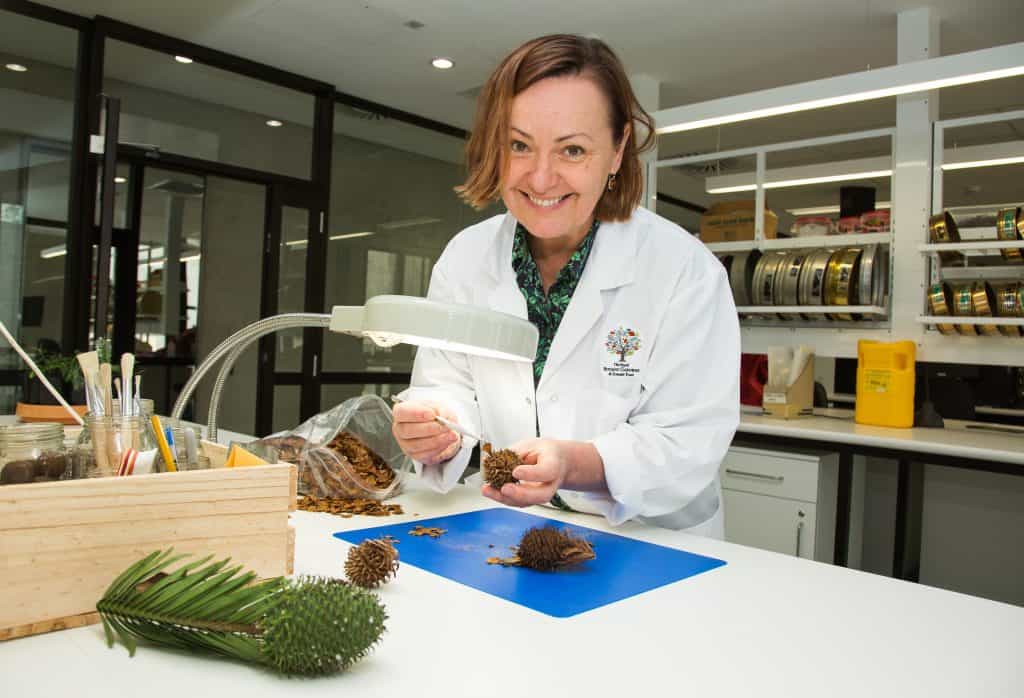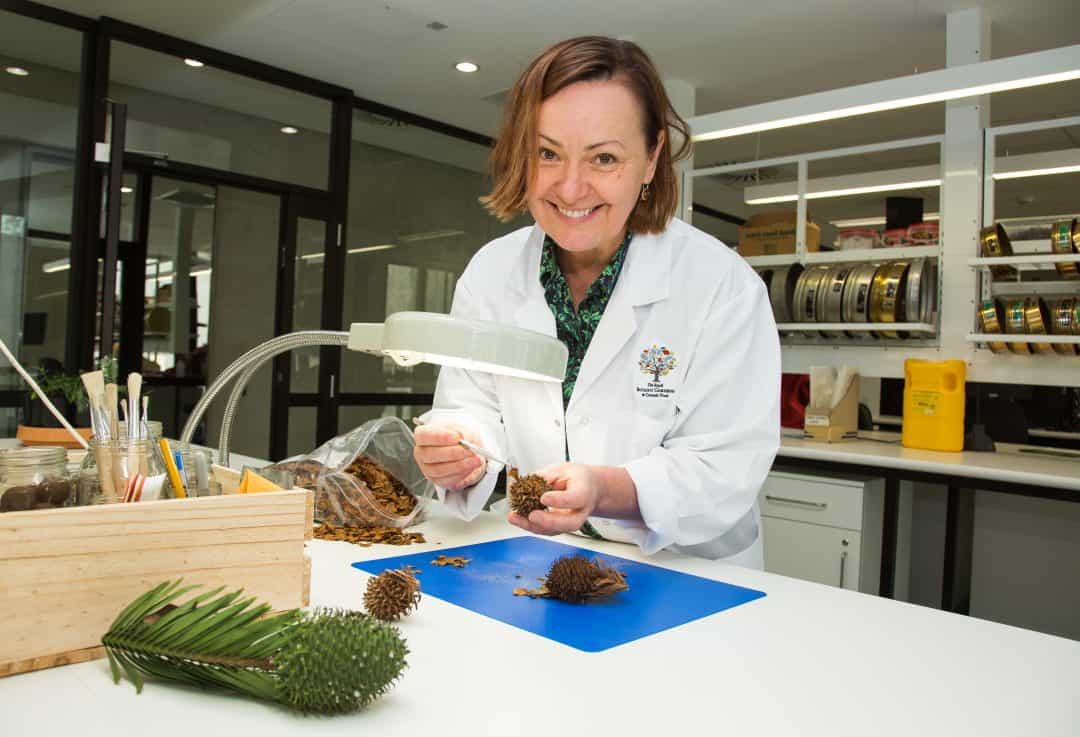 Cathy's research interests lie in ex situ conservation including seed storage and tissue culture, reproductive biology, especially seed biology, horticultural development of Australian Plants and translocation of threatened species. Her current projects include ex situ conservation of Australian rainforest species, restoration ecology of Persoonia species, conservation and cultivation of Wollemi Pine and technological improvement of seed banking for long-term conservation.