The ANPC has received funding from the National Environmental Science Program's Threatened Species Recovery Hub (TSR Hub) to produce the third edition of our Guidelines for the Translocation of Threatened Plants in Australia.
The review is being undertaken during 2017 and 2018 through consultation and liaison with a wide range of experts (scientists and practitioners), community representatives and organisations, and a final draft will be produced in mid 2018.
Plant translocation, the deliberate movement of plants, is the plant equivalent of captive breeding and release programs for animals. It is a relatively new but rapidly growing field, which is often used together with more traditional conservation approaches such as bush regeneration and weed management. It is often used to create both ex situ and in situ 'insurance populations' of species that are very rare or have a very small distribution, in case of threats like fire.
This review will keep Australia at the cutting edge of this important technique used in the fight against plant extinctions. Translocation is a rapidly expanding technique for the management and recovery of threatened plant species. Success depends on careful scoping, planning and execution, and the Guidelines are designed to facilitate this.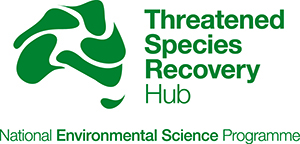 WA THREATENED PLANT TRANSLOCATION WORKSHOP 14th March 2019.
Find out more at https://www.anpc.asn.au/wa-threatened-plant-translocation-workshop/
A national consultation workshop was held on 2 & 3 August 2017 at the Royal Botanic Garden, Sydney.
This workshop brought together 30 translocation experts from around Australia, to commence the process of updating the Guidelines. Firstly, Jen Silcock provided an update on her TSR Hub post-doc project to review plant translocations in Australia. The new structure of the guidelines was then discussed, including new content. After a group discussion on considering climate change when selecting source and recipient sites (a new topic for the Guidelines), break-out groups were formed to discuss each chapter. Case studies were also identified, which will be included in the Guidelines as well as published in Australasian Plant Conservation and online. Finally, a publicity strategy was discussed to ensure uptake and usage of the guidelines. The next step is to identify lead and co-authors for each chapter, and start revising and writing the content.
View Flickr photo slideshow here

Participants at the recent national consultation workshop. Standing, left to right: Jen Silcock, Doug Bickerton, Andrew Benwell, Tom North, Rachael Gallagher, Linda Broadhurst, Joslin Moore, David Coates, Paul Adam, Marc Freestone, Rebecca Dillon, Nigel Swarts, Noushka Reiter, Heidi Zimmer, Laura Simmonds, Neville Walsh, Tony Auld, Mark Ooi, Andrew Young, David Taylor and Bob Makinson. Sitting: Lucy Commander, Cathy Offord, Peter Vesk, Margaret Byrne, Maria Matthes, Leonie Monks and Maurizio Rossetto. (Photo: Jo Lynch)
Update June 2018
The project to update ANPC's Translocation Guidelines is progressing well. A draft of all of the chapters is complete and the editing is continuing. Many authors have kindly provided photos of various aspects of translocation, which will illustrate techniques as well as making the new edition visually attractive. Twenty-two case studies from across Australia have been submitted so far, and will be published in Australasian Plant Conservation with excerpts being incorporated into the guidelines. These case studies showcase best practice translocation of a variety of life forms including trees, shrubs and orchids, and across a number of habitats.
In April 2018, Dr David Coates organised a Threatened Species Recovery Hub workshop on Scoping the Benefits of Gene Pool Mixing for Threatened Plant Translocations. Over 20 geneticists, ecologists, and translocation experts met at the Royal Botanic Gardens Victoria to discuss the topic. Attendees identified that in some cases, gene pool mixing has the potential to rescue plant species from extinction, whereas in other cases, the consequences may be detrimental to the species. A paper is being prepared resulting from the discussion at the workshop. Useful feedback on two chapters of the Guidelines was also received at the workshop, and is being incorporated.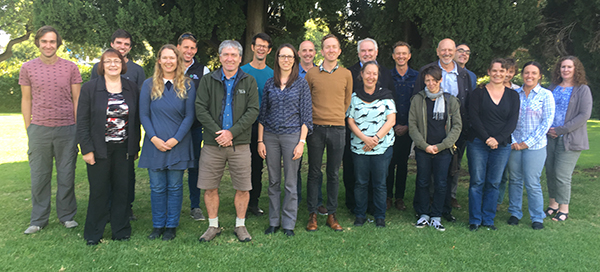 Participants at the Threatened Species Recovery Hub's gene pool mixing workshop in Melbourne in April 2018. Photo: Rachel Morgain, TSR Hub
The ANPC's Project Manager, Lucy Commander, had the opportunity to publicise the new edition of the Guidelines at the recent Science Forum held by the Western Australian Department of Biodiversity, Conservation and Attractions. Lucy also spoke at the recent Threatened Species Recovery Hub Roadshow in Brisbane.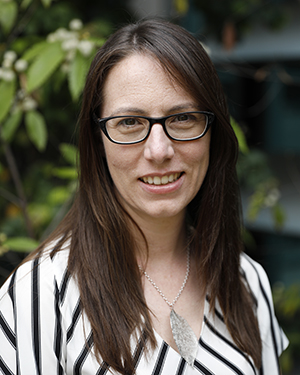 There will be a 1-day Translocation Workshop as part of the 12th Australasian Plant Conservation Conference in Canberra in November 2018. You will be able to hear all about the new Guidelines, and presentations will be given by several of its authors. There will be opportunities to ask questions and network.
Thank you to all of the Guidelines' authors and the case study authors for contributing to this worthwhile project.
For more information on the review of the translocation guidelines, please contact:
Dr Lucy Commander  Email
Project Manager
Guidelines for the Translocation of Threatened Plants in Australia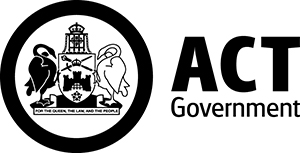 Sponsor for printing of the 3rd Edition of Guidelines for the Translocation of Threatened Plants in Australia
Successful Threatened Plants Translocation Information Day held Tuesday 1 August, Royal Botanic Garden, Sydney.
Organised by the ANPC and the Threatened Species Recovery Hub, with support from the NSW Office of Environment and Heritage and the Royal Botanic Garden Sydney, 'Plants Going Places' attracted a capacity audience of 80 people (with a waiting list) demonstrating a huge interest in plant translocation.
Attendees included threatened species project coordinators, environmental consultants, local government officers, NGOs, NRM organisations, bushcare volunteers and community members who were involved, or had an interest, in policy and/or the implementation of planned translocations (including population augmentation and/or establishment of new populations). Local and national experts held a range of presentations on provenance, orchids, the science of translocation, monitoring, licensing, policy and numerous case studies including Asterolasia buxifolia, Fontainea oraria, Persoonia pauciflora, and Wollemia nobilis. Download the program here.
NEW: Most of the presentation slides and audio files from the day are now available here!
For more information on the workshop, please e-mail Heidi Zimmer.
PRESS RELEASE: Issued 31 July 2017
#PlantsGoingPlaces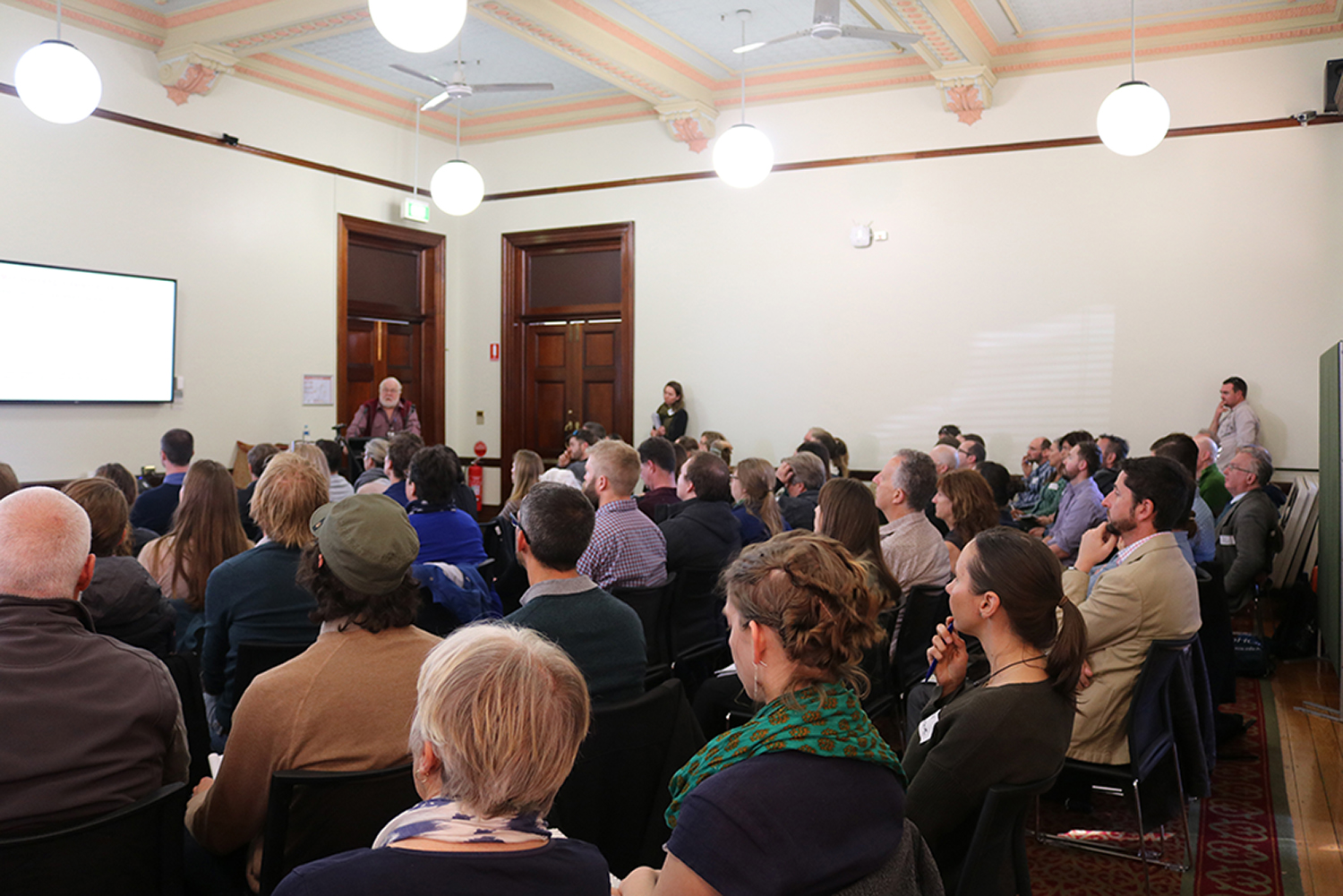 Participants at the Translocation Information Day held in the Maiden Theatre at the Royal Botanic Garden Sydney. (Photo: Jo Lynch)
View Flickr photo slideshow here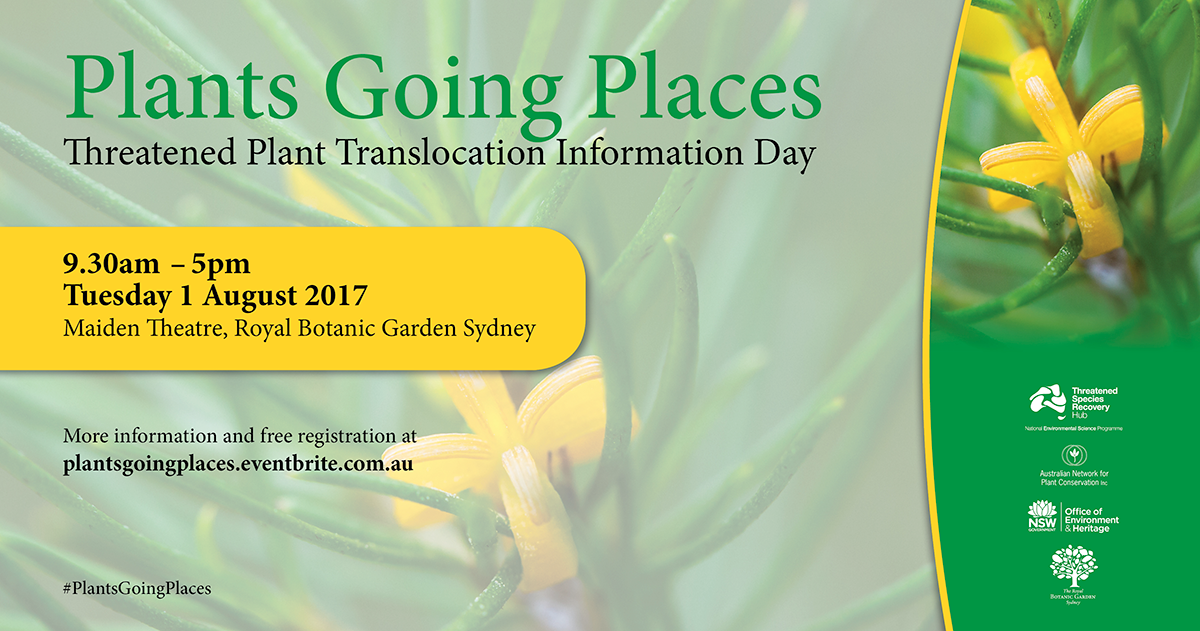 This project has six key objectives:
Evaluation and synthesis of current knowledge of plant translocations in Australia.
Understanding and further development of criteria for measuring success of plant translocations.
Evaluating alternative measures of translocation success such as measures based on Population Viability Analysis, genetic diversity and mating systems.
Updating the current Guidelines for Translocation of Threatened Plants in Australia.
The development of working examples of best practice translocation for threatened plants.
Scoping the benefits of gene pool mixing for threatened plant reintroductions.
A postdoctoral fellow (Dr Jen Silcock) and three PhD students: Leonie Monks (Murdoch University) , Rebecca Dillon (The University of Adelaide) and Marc Freestone (The Australian National University) are funded through the project, as well as Dr Lucy Commander. Research by the three PhD students will focus on understanding and further development of criteria for measuring translocation success. The PhD project by Leonie Monks, a research scientist in the WA Department of Biodiversity, Conservation and Attractions (DBCA), will include investigating translocation success in three WA threatened plant species and a meta-analysis of over 100 experimental Western Australian plant translocations, most carried out by Leonie over the last two decades. Rebecca Dillon is also a research scientist at DBCA and her PhD project involves a detailed study of alternative translocation success criteria in a species from WA and a species from SA. Marc Freestone will be exploring translocation success in the orchid translocation program in Victoria coordinated through the Royal Botanic Gardens Victoria.
Call for case studies!
Dr Jen Silcock and Dr Laura Simmons at the University of Queensland are collating information on all current and past threatened plant translocations in Australia, developing a plant translocation database, and undertaking a meta-analysis to assess factors that could be critical in plant translocation success.
If you have undertaken a threatened plant translocation, you are invited to submit details of the translocation to the TSR Hub project.  More information: www.nespthreatenedspecies.edu.au/projects/threatened-plant-reintroduction-and-relocation