Myrtle Rust is a major new threat to Australia's flora. This information hub has been developed by the ANPC to contribute to response capabilities here in Australia and overseas.
The ANPC has been at the centre of attempts by concerned scientists and conservation practitioners to develop a coordinated and funded national response to this threat. Your support for our work in this area, and on broader aspects of environmental biosecurity, would be welcome – please contact the office.
ANPC Myrtle Rust Resources
Current resources (on this page)
ANPC projects on Myrtle Rust
Archival material on Myrtle Rust
Coming soon
How to report Myrtle Rust in WA and SA
How to report Myrtle Rust observations in other jurisdictions
How to help the effort to save Myrtle Rust -affected species and ecosystems
A revised Myrtle Rust Global Bibliography
A revised Australian host-list (APC-compliant)
---
Myrtle Rust Survey
The Council of Heads of Australian Botanic Gardens and BGANZ are running a Myrtle Rust survey. The survey will take stock of Myrtaceae species currently in collections across the country to inform future actions to conserve myrtle rust-affected species. If you or your organisation hold conservation collections of Myrtaceae species please complete the survey, any questions and the completed spreadsheet can be sent to Damian Wrigley at info@chabg.org.au
DOWNLOAD THE SURVEY HERE or Visit the CHABG website for more information

---
Two key documents are posted here by permission of the Australian Plant Biosecurity Science Foundation.

---
The Myrtle Rust global host list
Austropuccinia psidii the causal agent of myrtle rust disease (syn. Puccinia psidii, Sphaerophragmiaceae, Pucciniales) is one of the best illustration of an unusual broad host range rust fungi. This pathogen is affecting specifically the Myrtaceae, a family that comprises 142 genera and 5,500 species worldwide (Thornhill et al. 2015).
Establishing the complete list of A. psidii host range is challenging given its broad and continual expansion into new geographical areas and host species. In biodiversity hotspots such as Australia and New Caledonia, the myrtle rust has found a wide diversity of naive host species. Consequences of the encounter of A. psidii and new naive host resulted in a massive expansion of its host range. This list provides an update on the A. psidii global host list, including the recent host list released from New Caledonia and New Zealand. A total of 480 species and subspecies (up to 524 at the taxa level) were recognized as host of A. psidii. The scientific name nomenclature chosen for the genera, taxa, species, subspecies in this list, were extracted from the World Checklist of Selected Plant Families database (Govaerts et al. 2015), a unique and continuously updated synonymized world list of plants by the Royal Botanic Gardens of Kew. To keep consistency and track back the species in the literature, we also include in this list the species names as found in the original literature source.
References:
Govaerts R, Simpson D, Goetghebeur P, Wilson K, Egorova T, Bruhl J (2015) World checklist of Selected Plant Families. Cyperaceae. Kew: The Board of Trustees of the Royal Botanic Gardens, Kew.
Thornhill AH, Ho SY, Kulheim C, Crisp MD (2015) Interpreting the modern distribution of Myrtaceae using a dated molecular phylogeny. Mol Phylogenet Evol 93:29-43. doi:10.1016/j.ympev.2015.07.007
Download the Myrtle Rust global host list here:
---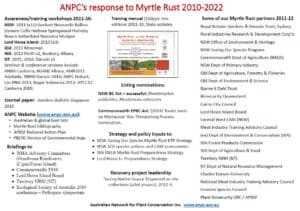 ---
---