Myrtle Rust is a major new threat to Australia's flora. This information hub has been developed by the ANPC to contribute to response capabilities here in Australia and overseas.
The ANPC has been at the centre of attempts by concerned scientists and conservation practitioners to develop a coordinated and funded national response to this threat. Your support for our work in this area, and on broader aspects of environmental biosecurity, would be welcome – please contact the office.
---

Myrtle Rust threatens an estimated 350 Australian plants, killing new growth, buds and flowers, meaning severely impacted species can no longer reproduce. Worst affected species will disappear from the wild. Myrtle Rust is having such a devastating impact on some native plants, that scientists, community groups and First Nations groups in Australia and New Zealand are working together to devise an Australasian response.
The inaugural Australasian Myrtle Rust Conference was held in Sydney from 21-23 June 2023. Supported by the Australian Network for Plant Conservation, this event brought together over 100 researchers and experts from across Australia, New Zealand and the US to share knowledge and discuss future Myrtle Rust management options and research priorities. The latest research and management approaches were discussed as we asked "where to from here?" The conference included a poster session and optional field trip to view Myrtle Rust where it is heavily impacting Australian native plants. The program outline with session themes is available on the website here.
Recordings of all Conference presentations are now available on the ANPC YouTube channel here

Attendees were buoyed by the breadth of work and dedication to preventing Myrtle Rust extinctions. They were simultaneously unanimous in the sentiment that stronger leadership, greater coordination, and long-term funding were the crucial missing elements. Priority next steps include improved sharing of resources and of research and its outcomes, and refining priority species and actions for conservation efforts to maximise the involvement of researchers, communities and land managers.
Several key themes emerged from the 50 presentations given during the conference, giving rise to potential simultaneous directions to tackle Myrtle Rust incursions and extinctions:
---
As part of our Safe Custody for Native Guava Project we have produced two short films:
---
As part of our Safe Custody for Native Guava Project we produced a webinar in collaboration with the BGANZ BCARM group. You can watch the webinar below and access more resources here.

---
*FILM RELEASE – Myrtle rust, the silent killer*
This film introduces Myrtle Rust and its cultural, social and ecological effects on Australia's native environment. Indigenous rangers, scientists and landowners share their first-hand stories of this fungal disease and its impact on our precious species and landscapes. We learn about their efforts to bring species back from the brink of extinction and the value of protecting our unique ecosystems from biosecurity threats for generations to come.
This film was a collaborative project led by Queensland Agriculture with support from the ANPC, the San Diego Zoo WIldlife Alliance, NSW Government, the Butchulla Aboriginal Corporation and the Plant Biosecurity Science Foundation.
---
ANPC Donation Drive – Will you help us in the fight against Myrtle Rust?
From Nov 2022 – April 2023 we are raising funds for our work on Myrtle Rust.
Myrtle Rust, an introduced fungal disease, is a major threat to Australia's flora.  It infects hundreds of species in the Myrtaceae family, which includes our bottlebrushes, paperbarks, lilly pillies, and eucalypts. Since this disease was introduced to Australia in 2010, at least five native plants have jumped straight to the 'Critically Endangered' category as a direct result of the disease, and are faced with extinction in the wild in the very near future.
A further 20 to 30 Australian native species are known, or suspected, to also be in decline, and over 300 more are known to be susceptible to a lesser degree. This number will rise.
These funds will be used to:
Further develop the Myrtle Rust information hub on our website to provide even more up-to-date, scientifically accurate information and images of the disease and the species affected by it.
Continue to identify relevant global research and information and bring this to the heart of decision making about Myrtle Rust in Australia.
Share our evidence-based resources with the wider conservation community.
Continue to work across the silos that divide the people and resources needed for an integrated national response to the disease.
Promote the National Action Plan for Myrtle Rust, and lobby for the new resources that will be needed by botanic gardens and agencies to implement it.
Promote improved environmental biosecurity measures for this and future environmental plant diseases.
The ANPC has been at the forefront of the effort to fight Myrtle Rust since 2010.
We have mobilised information on Myrtle Rust out of specialist journals and reports, and into the conservation arena. We have run over 40 awareness and training workshops in regional centres around the country. Our website is the main Myrtle Rust information hub for Australia.
We have worked to link scientists and practitioners across the divisions between States and different disciplines and departments, to focus on the problem. The ANPC has been a key player in a largely unfunded national working group of experts since 2012.
We have worked to motivate governments to develop an active national approach to Myrtle Rust, before species go extinct. The ANPC has been instrumental in the development of the National Action Plan for Myrtle Rust (2020), which is now being taken up by governments and researchers.
The ANPC has played a key role in promoting the urgent rescue of 'germplasm' (seed and growing material) from hardest-hit species, before they go extinct in the wild.
We are at the forefront of thinking about how to use this rescued material to identify rust-tolerant variants, with the aim of reinforcing or re-introducing these species.
Much of the ANPC's work on Myrtle Rust until very recently has been on a voluntary basis or at best a shoestring budget.
We are currently coordinating a separate Commonwealth funded project to provide Safe Custody for Native Guava from Myrtle Rust.  This pilot project, which lays the basis for a dispersed 'metacollection' of Native Guava, is the tip of the iceberg of what is needed.
We need to take our fight against Myrtle Rust to the next level.
Our Myrtle Rust team are happy to discuss our work with prospective donors. 
Please contact us at myrtlerust@anpc.asn.au
---
ANPC Myrtle Rust Resources
Current resources (on this page)
ANPC projects on Myrtle Rust
Archival material on Myrtle Rust
Coming soon
How to report Myrtle Rust in WA and SA
How to report Myrtle Rust observations in other jurisdictions
How to help the effort to save Myrtle Rust -affected species and ecosystems
A revised Myrtle Rust Global Bibliography
A revised Australian host-list (APC-compliant)
---
Two key documents are posted here by permission of the Australian Plant Biosecurity Science Foundation.

---
The Myrtle Rust global host list
Austropuccinia psidii the causal agent of myrtle rust disease (syn. Puccinia psidii, Sphaerophragmiaceae, Pucciniales) is one of the best illustration of an unusual broad host range rust fungi. This pathogen is affecting specifically the Myrtaceae, a family that comprises 142 genera and 5,500 species worldwide (Thornhill et al. 2015).
Establishing the complete list of A. psidii host range is challenging given its broad and continual expansion into new geographical areas and host species. In biodiversity hotspots such as Australia and New Caledonia, the myrtle rust has found a wide diversity of naive host species. Consequences of the encounter of A. psidii and new naive host resulted in a massive expansion of its host range. This list provides an update on the A. psidii global host list, including the recent host list released from New Caledonia and New Zealand. A total of 480 species and subspecies (up to 524 at the taxa level) were recognized as host of A. psidii. The scientific name nomenclature chosen for the genera, taxa, species, subspecies in this list, were extracted from the World Checklist of Selected Plant Families database (Govaerts et al. 2015), a unique and continuously updated synonymized world list of plants by the Royal Botanic Gardens of Kew. To keep consistency and track back the species in the literature, we also include in this list the species names as found in the original literature source.
References:
Govaerts R, Simpson D, Goetghebeur P, Wilson K, Egorova T, Bruhl J (2015) World checklist of Selected Plant Families. Cyperaceae. Kew: The Board of Trustees of the Royal Botanic Gardens, Kew.
Thornhill AH, Ho SY, Kulheim C, Crisp MD (2015) Interpreting the modern distribution of Myrtaceae using a dated molecular phylogeny. Mol Phylogenet Evol 93:29-43. doi:10.1016/j.ympev.2015.07.007
Download the Myrtle Rust global host list here:
---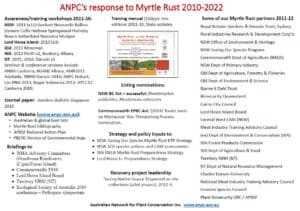 ---
---