ANPC survey and report on the Australian native seed industry
Between October 2016 and April 2017, Australian seed collectors, growers/sellers/suppliers, purchasers/distributors and other interested parties were invited to participate in a survey organised by the Australian Network for Plant Conservation (ANPC), on the status of the Australian native seed industry.
The aim of the survey was to gauge the structure and capacity of the native seed industry to meet current and future demand, and to gather feedback on issues experienced within the industry. Initial survey results were disseminated at the Australian Native Seed Industry Review workshop detailed below, held as part of the ANPC's 11th Australasian Plant Conservation Conference (APCC11) in Melbourne on 18 November 2016.
The Australian Native Seed Survey Report was launched on 31 March 2020 by the Threatened Species Commissioner Dr Sally Box.
This ANPC report authored by Martin Driver (ANPC), Dr Paul Gibson-Roy (Kalbar Resources), Dr Linda Broadhurst (CSIRO) and Dr Nola Hancock (Department of Biological Sciences, Macquarie University) details the full results of the national survey, capturing the behaviours and views of a wide range of native seed sector participants and has fed into the development and implementation of the Healthy Seeds project.
Thank you to the Rural Industries Research & Development Corporation for sponsoring the seed industry survey.

The Australian Native Seed Industry Review workshop –  The Purpose, The People, The Practice and The Proposals for Action.
This workshop was held at Mueller Hall at the Royal Botanic Gardens Victoria, Melbourne, as part of the APCC11 conference on 18 November 2016. This 'Call to Action' Workshop drew on both Dr Paul Gibson-Roy's plenary conference review of the American native seed industry and the pre-conference industry-wide on-line survey (see details above), along with workshop participation, to identify the key issues, gaps and opportunities in the Australian native seed industry at this time.
The workshop and survey targeted input and participation from the Australian Seed Bank Partnership, regional seedbanks, commercial seed collectors, seed companies, contractors/revegetators, restoration organisations, regional NRM bodies, State/Federal agencies, research institutions and casual collectors and enthusiasts.
The workshop identified what are some of the key issues and gaps in the Australian national and regional seed supply chains and how we fare against learnings from the American scene. This has helped to identify and prioritise some critical elements that need to be addressed and identify opportunities, actions and key players to assist in creating a true native seed supply industry.
Read the Workshop Summary Report here.
'A Personal Potted History Of Native Seed Supply' – Powerpoint presentation by Martin Driver ANPC Project Manager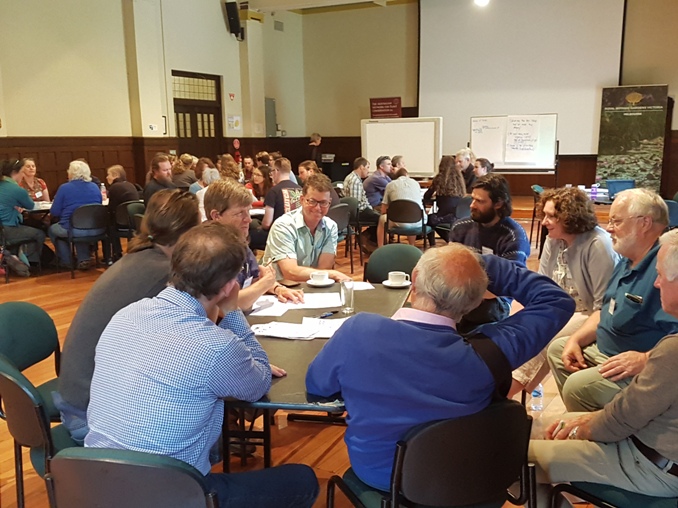 Participants brainstorming at the Australian Native Seed Industry Review workshop (Photo: Martin Driver)
The APCC11 workshop was sponsored by the Rural Industries Research & Development Corporation.