Organised by the ANPC and the Threatened Species Recovery Hub, with support from the NSW Office of Environment and Heritage and the Royal Botanic Garden Sydney, 'Plants Going Places' attracted a capacity audience of 80 people (with a waiting list) demonstrating a huge interest in plant translocation. It was held as part of the 'Review of the ANPC's Guidelines for Translocation of Threatened Plants in Australia' project, whilst many experts were in Sydney attending a 2 day consultation workshop.
Local and national experts held a range of presentations on the science of translocation, provenance, orchids,  monitoring, licensing, policy and numerous case studies including Asterolasia buxifolia, Fontainea oraria, Persoonia pauciflora, and Wollemia nobilis. Attendees included threatened species project coordinators, environmental consultants, local government officers, NGOs, NRM organisations, bushcare volunteers and community members who were involved, or had an interest, in policy and/or the implementation of planned translocations (including population augmentation and/or establishment of new populations). Download the program here.
Most of the presentation slides and audio files from the day are available below!
PRESS RELEASE: Issued 31 July 2017 
#PlantsGoingPlaces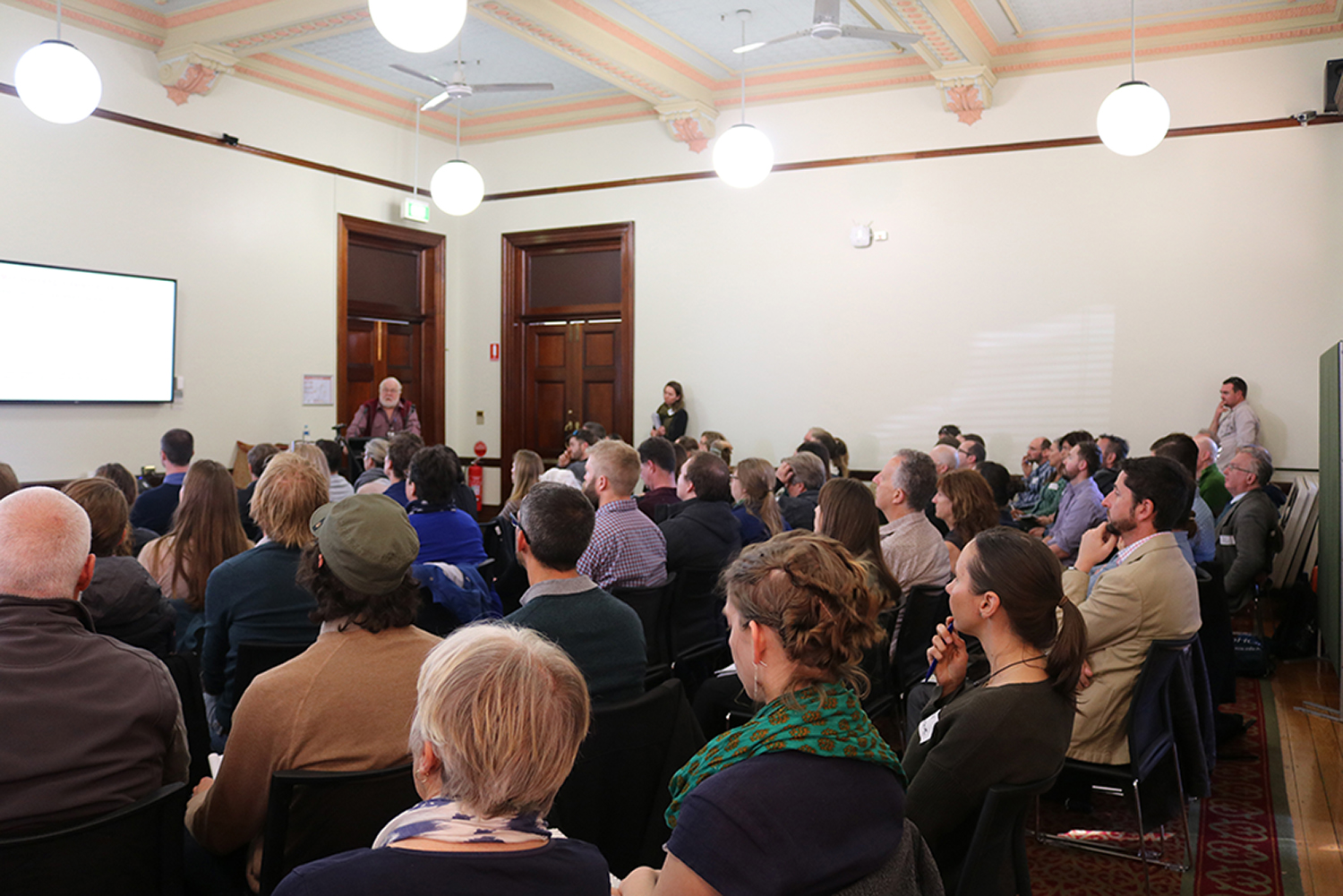 Participants at the Translocation Information Day held in the Maiden Theatre at the Royal Botanic Garden Sydney. (Photo: Jo Lynch)
View Flickr photo slideshow here
Proceedings of the ANPC 2017 Translocation Information Day
Session 1
Acknowledgement of Country. Kalkani Choolburra
Welcome and housekeeping. Heidi Zimmer
Australia's Threatened Species Strategy – 30 Priority Plants. Sebastian Lang (Office of the Threatened Species Commissioner)
Welcome to the Royal Botanic Garden. Kim Ellis (Royal Botanic Garden Sydney)
Introducing the Threatened Plant Translocation Information Day. Cathy Offord (Royal Botanic Garden Sydney) Audio file and Presentation slides
Mitigating extinction risk in threatened species. Tony Auld (Office of Environment and Heritage NSW) Audio file and Presentation slides
Ecological factors affecting the success of rare flora translocations and translocation permits in WA. Leonie Monks (Department of Biodiversity, Conservation and Attractions WA) Audio file and Presentation slides
Missing Links: ANPC's role in the flow of information and expertise for plant conservation. Bob Makinson (Australian Network for Plant Conservation) Audio file and Presentation slides
Session 2
Session 3
Orchid translocations, short and long term considerations. Noushka Reiter (Royal Botanic Gardens Victoria)
Hey, we're gonna need some plants – getting the basics of translocation right! Peter Cuneo (Royal Botanic Garden Sydney) Audio file and Presentation slides
Translocations in Saving our Species and Translocation policy in NSW. James Brazil-Boast (Office of Environment and Heritage NSW) Audio file and Presentation slides
Licensing requirements for translocations in NSW. Julie McInnes (Office of Environment and Heritage NSW) Presentation slides
Provenance, genetic diversity and assisted migration. Linda Broadhurst (CSIRO) Audio file and Presentation slides
NESP TSR Hub Project 4.3: Improving threatened plant reintroduction success and species recovery. David Coates (Department of Biodiversity, Conservation and Attractions WA) Audio file and Presentation slides