The 12th Australasian Plant Conservation Conference is promoting 12 threatened plants from the ACT region, to highlight some of the many endangered plants in and around the territory. All but one are listed as vulnerable, endangered or critically endangered at the national level. View as a Flickr slideshow.
The NEW 2019 ANPC calendar also features these plants. The profits from the sale of the calendar will be directed towards ANPC projects aiming to raise community awareness of threatened plant species and endangered ecological communities throughout Australia.
The calendar is available for $15.00 (+ postage and handling) and only $10.00 for ANPC members!
Rutidosis leptorrhynchoides (Button Wrinklewort)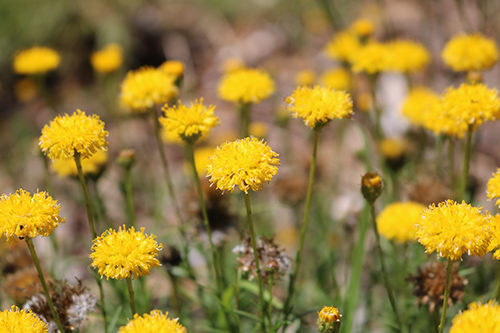 Rutidosis leptorrhynchoides is a perennial, multi-stemmed herb growing to 35cm tall. Flower-heads are bright yellow and button-like and the species flowers between December to March. Rutidosis leptorrhynchoides occurs in the Southern Tablelands of NSW and ACT, Gippsland Plain in eastern Victoria and the Volcanic Plains of western Victoria. Local populations are found at Goulburn, the Canberra – Queanbeyan area and Michelago growing in grassland and grassy woodland communities. It is known from less than 30 sites and enhancing genetic diversity is very important for its recovery. Rutidosis leptorrhynchoides is threatened by habitat loss, invasive weeds, changed fire regimes, grazing and weed control impacts. This photo was taken in the grassy woodland section at the Australian National Botanic Gardens in Canberra. Photo: Jo Lynch
Caladenia actensis (Canberra spider orchid)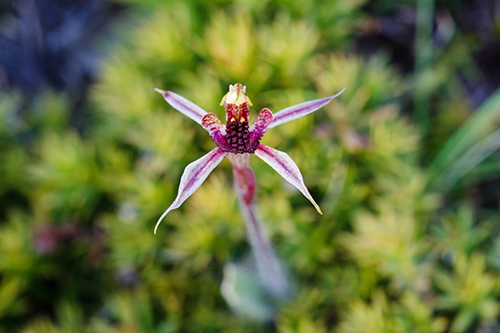 Caladenia actensis is a critically endangered orchid with greenish flowers heavily marked with reddish crimson lines. It is endemic to the ACT and currently only known from two populations on Mt Ainslie and Mt Majura. Caladenia actensis does not flower every year and when it does, usually has only a single flower flowering from late September to mid-October. The orchid occurs amongst a ground cover of grasses, forbs and low shrubs and in transitional vegetation zones between open grassy woodlands and dry sclerophyll forests. The ongoing impact of urbanisation has led to a reduction in populations from four to two over the last forty years. Caladenia actensis is insect-pollinated and uses sexual mimicry to trick thynnid wasps into visiting their flowers. Photo: Tobias Hayashi
Ammobium craspedioides (Yass Daisy)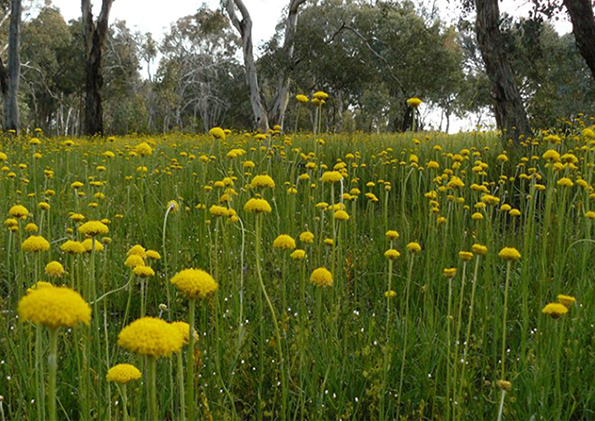 Ammobium craspedioides is a rosette forming perennial herb that bears solitary, yellow flower-heads 10–20mm wide in October-November, and grows in dry forest, box gum woodland and secondary grassland. It is found from near Crookwell on the Southern Tablelands to near Wagga Wagga, with most populations being found in the Yass region. Ammobium craspedioides is listed as vulnerable in NSW with the main threats being from agricultural and infrastructure development, weed invasion, road works, slashing and intensification of grazing. Photo: Bindi Vanzella
Grevillea iaspicula (Wee Jasper Grevillea)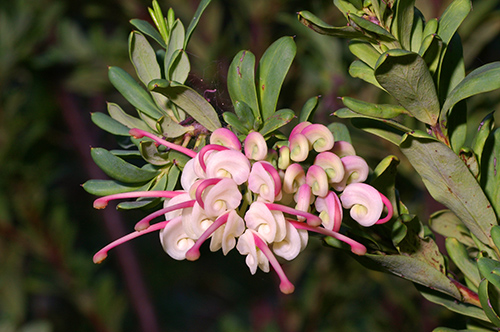 Grevillea iaspicula is an erect shrub growing to 2.5m tall with small creamy-pink flowers hanging in spider-like clusters, flowering in the winter and spring. It is listed as critically endangered in NSW and is only found naturally at six sites around the Lake Burrinjuck and Wee Jasper areas. Heavy grazing by feral goats led to the species' near extinction by the mid-1990s but tailored protection measures including fencing and intensive feral goat control at Burrinjuck Nature Reserve have led to Grevillea iaspicula flowering in the reserve for the first time in two decades and the emergence of around 150 new seedlings. Photo: Brian Walters
Lepidium ginninderrense (Ginninderra Peppercress)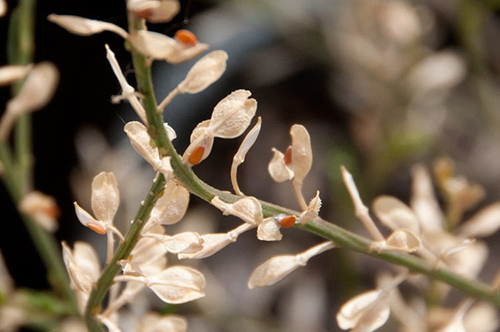 Lepidium ginninderrense is a perennial herb that grows to 20cm tall. Listed as endangered in the ACT, it is only known from two natural sites and two planted sites in the northern ACT. Abundance varies from year-to-year and recruitment occurs in bare areas and poorly drained areas. Lepidium ginninderrense occurs in natural temperate grassland in areas with low and sparse perennial grass cover. Threats to the species include land use changes, urban development, deliberate or unintended actions associated with visitor and/or land management activities in the local area, competition from grasses and overgrazing by the eastern grey kangaroo. Photo: Bruce Clarke
Leucochrysum albicans subsp. tricolor (Hoary Sunray)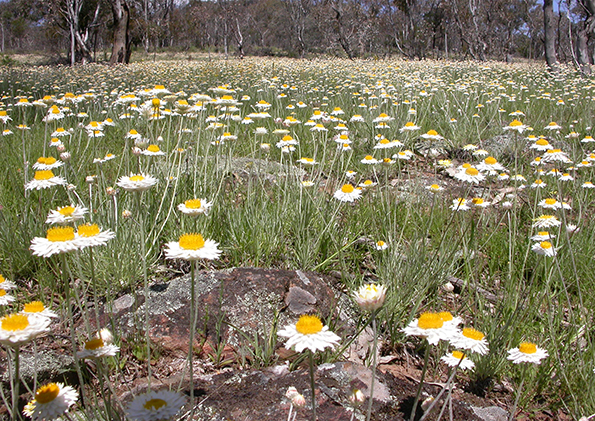 The threatened Leucochrysum albicans subsp. tricolor is a perennial everlasting daisy growing to 15cm tall with an inflorescence of a single flower head with a yellow disc centre and white radiating bracts, flowering in the spring and summer. Leucochrysum albicans subsp. tricolor occurs in a variety of grassland, grassy woodland and dry open forest habitats, in natural or semi-natural vegetation. Endemic to south-eastern Australia, it is known from three geographically separate areas in Tasmania, Victoria and south-eastern NSW and ACT. In the latter it occurs at relatively high elevations in an area roughly bounded by Albury, Bega and Goulburn. Herbarium records indicate that the taxa once occurred more widely in inland NSW. This photo was taken on the north western slopes of Mt Majura in the ACT. Photo: Waltraud Pix
Calotis glandulosa (Mauve Burr-daisy)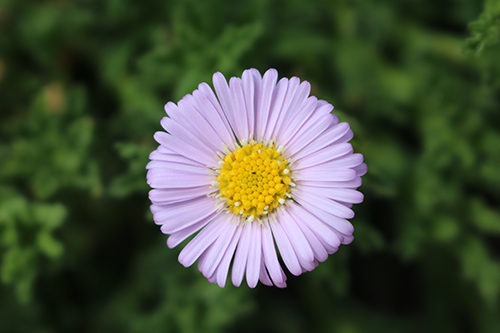 Calotis glandulosa is a sprawling, branched herb that grows to 20cm tall and 1m wide. The solitary flower-heads appear in the spring and summer and may be mauve, white, blue or pink with a yellow centre. The soft, bright green, hairy leaves have indented edges and are up to 3cm long and 9mm wide. Flowers are followed by a head of brown burrs that may stick to clothing and animals' coats. Calotis glandulosa is found in the Monaro and Kosciuszko regions. The species, found in montane, subalpine and natural temperate grasslands is classified as vulnerable and continues to be threatened by habitat loss and disturbance. This photo was taken in the Asteraceae garden at the Australian National Botanic Gardens in Canberra. Photo: Lily Berry
Pomaderris delicata (Delicate Pomaderris)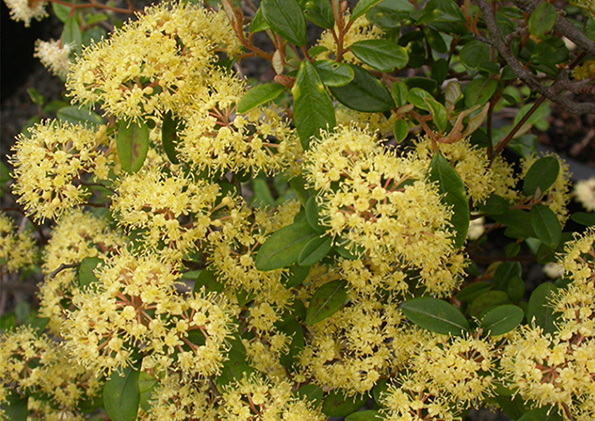 Pomaderris delicata is a shrub 1-2m tall with golden yellow flowers. It is known from only two populations south-west of Goulburn on the Southern Tablelands of NSW in dry open sclerophyll forests. Pomaderris delicata is listed as critically endangered in NSW and due to the highly restricted geographic distribution faces a high risk of extinction as a result of habitat disturbance, roadside damage, understory clearing and overgrazing. In May 2015 under the NSW Saving our Species program, 500 propagated seedlings were translocated into both populations to improve their viability. Photo: Neville Walsh
Swainsona recta (Small Purple Pea)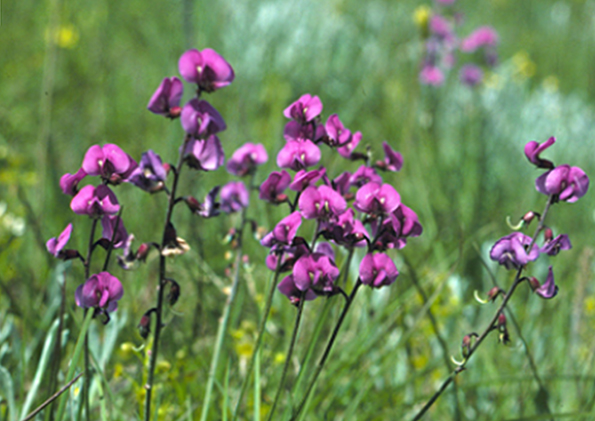 Swainsona recta is a slender, erect herbaceous perennial growing to 30cm tall. It bears purple, pea-shaped flowers between late September and early December and occurs in the grassy understorey of woodlands and open-forests. Once widespread across south-eastern Australia, Swainsona recta is now restricted to a few locations in the ACT, the central slopes of NSW and in the Mt Chiltern area of Victoria due to loss of habitat from agricultural and urban development. Swainsona recta is one of 30 plants that the Australian Government has prioritised for resource allocation to support the recovery of threatened species. Photo: John Briggs
Meuhlenbeckia tuggeranong (Tuggeranong Lignum)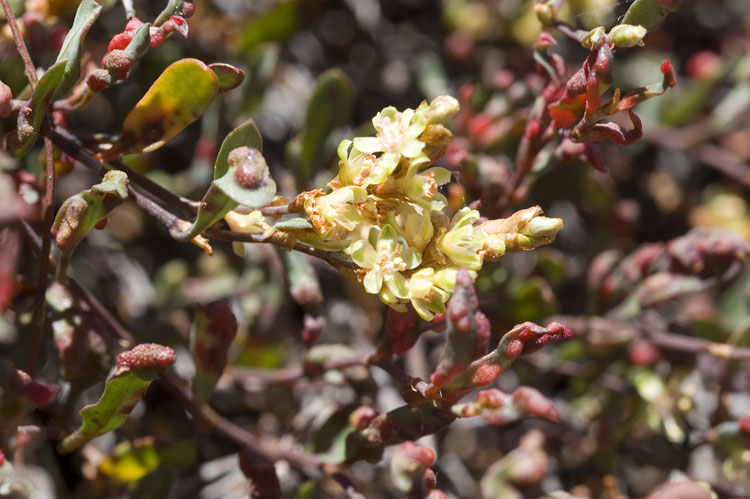 Muehlenbeckia tuggeranong is a sprawling shrub with a tangled mass of wiry stems, growing to 1m high and 1-2m across with small cream-green flowers. It is known from a few sites on the eastern bank of the Murrumbidgee River south of Canberra and is listed as endangered. Threats to Muehlenbeckia tuggeranong include damage from flood events, competition from invasive weeds, herbicide poisoning, inappropriate fire regimes and human physical impact. Muehlenbeckia tuggeranong can be seen growing in the grassy woodland section of the Australian National Botanical Gardens. Photo: Murray Fagg
Bossiaea grayi (Murrumbidgee Bossiaea)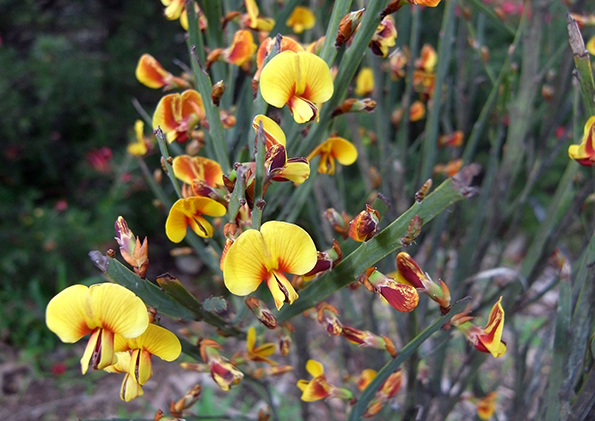 Bossiaea grayi is found only in the ACT and in only ten known sites along the Murrumbidgee, Paddy's and Cotter rivers. The ACT Flora and Fauna Committee declared the shrub endangered in January 2012 because it is in danger of premature extinction due to its small numbers and fragmented distribution. This rare, wiry shrub generally grows to around 1.5 metres high and typically grows in sandy soil amongst boulders on river banks and adjacent slopes close to rivers. It has yellow and brown pea flowers from September to October then develops long seedpods that drop off the plant in December. Flattened stems function as leaves (cladodes). The main threats to Bossiaea grayi include competition from native shrubs and weeds and damage by human activity. Photo: Murray Fagg
Eucalyptus recurva (Mongarlowe Mallee)
Eucalyptus recurva, also known as the 'ice age gum', is the rarest eucalypt in Australia. First discovered in 1985, Eucalyptus recurva is confined to the NSW Southern Tablelands where it is known from only four locations. Three of these sites support what are believed to be only single plants, whilst the other has two individuals present. Some of the plants have very large lignotubers, suggesting plants of a great age. It is likely that these individuals represent a relict of a more widespread ancestor. Eucalyptus recurva is a many-stemmed shrub (mallee) that grows to 4m tall. Its bark is smooth and mottled grey and orange-brown, shedding in short ribbons. The glossy-green leaves are arranged in pairs, to 3cm long and 8mm wide. The white flowers are arranged in clusters of three, on a common stalk to 5.5mm long. Each cluster arises from the axil of a leaf, and several clusters are produced towards the ends of the branchlets. The main distinguishing character of this species – from which its name is drawn – is its conspicuously recurved leaf tips which are very rare in eucalypts. Threats to this species include dieback caused by Phytopthora cinnamomi, habitat loss and disturbance. Establishing off-site specimens of this plant is essential for its survival. Photo: MD Crisp