The 2019-20 bushfires extensively affected orchid populations in the Australian Alps (NSW), East Gippsland (VIC) and at Kangaroo Island (SA). To prevent extinction of 14 nationally threatened orchid species in these areas, a project has been developed by Dr Noushka Reiter (Royal Botanic Gardens Victoria), Dr Ryan Philips (La Trobe University) and Dan Duval (Botanic Gardens of South Australia).
This project focuses on understanding the response of orchid populations to fire, and identifying threats to orchid reproduction and survival. The project team will undertake survival surveys, reproduction and herbivory studies, seed collection and propagation. For all 14 target species, ex situ (off site) permanent collections of living plants will be established through symbiotic propagation using seed and mycorrhizal collections. Improved understanding of the ecology of these species will allow the team to propose management recommendations to conservation agencies, enhancing their chances of long-term survival in the wild.
To communicate the findings to a wide audience, an orchid conservation symposium will be held at the conclusion of the project.
The orchids
Across three fire-affected regions, 14 orchid species will be targeted, as they require urgent conservation attention. Four of the species are Critically Endangered (CR) under the Environment Protection and Biodiversity Conservation Act. The remaining eight species are listed as nationally threatened and had significant populations burnt in the recent fires.
The sphagnum bogs of the Australian Alps, NSW and VIC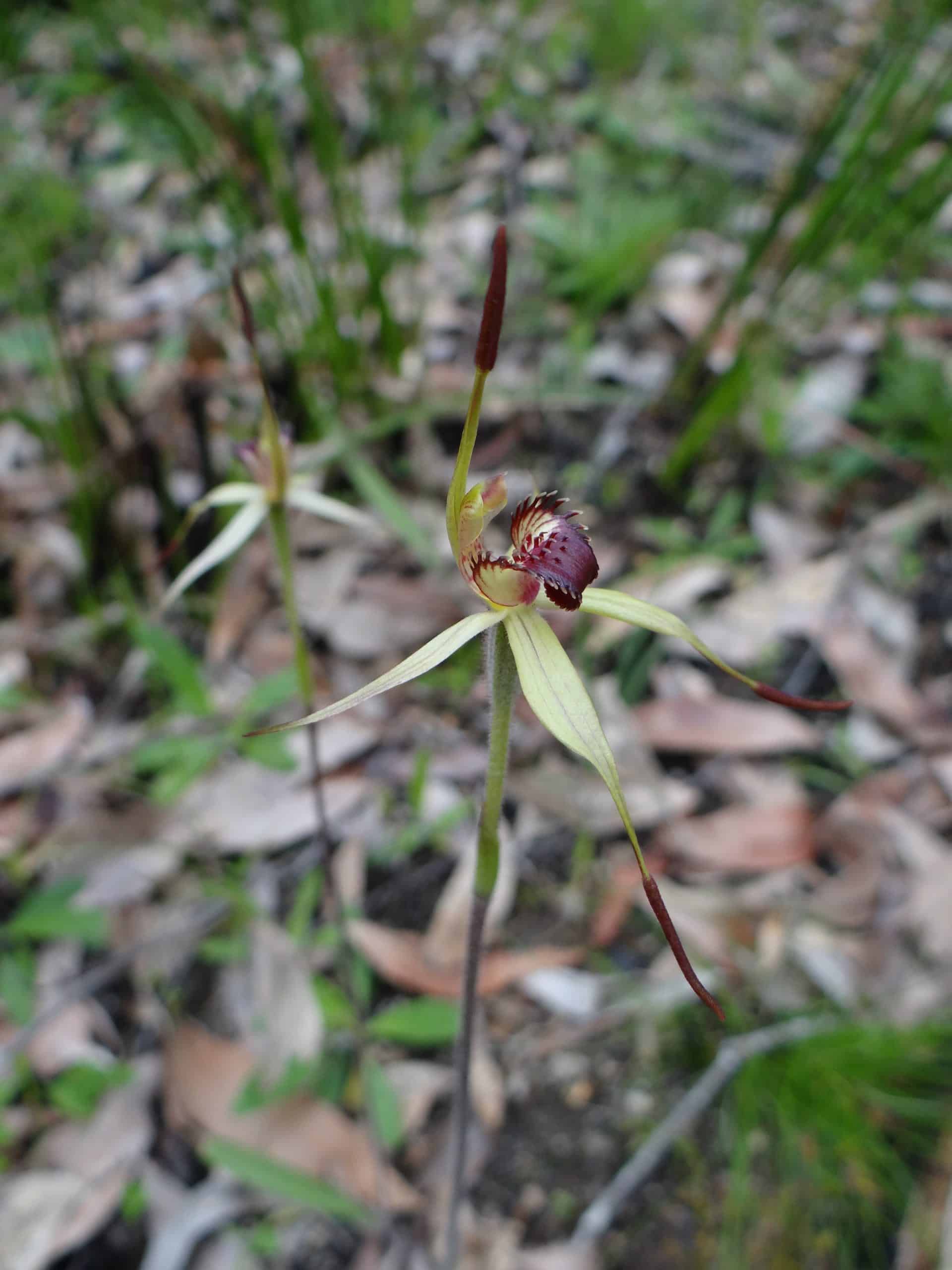 Diuris ochroma
Prasophyllum bagonense (CR)
Prasophyllum frenchii
Prasophyllum innubum (CR)
Prasophyllum keltonii (CR)
Prasophyllum morganii
Pterostylis oreophila (CR)
The wet forests of east Gippsland, VIC
Caladenia aestiva
Caladenia ancylosa
Caladenia tesselata
Kangaroo Island, SA
Caladenia argocalla
Caladenia ovata
Pterostylis cucullata
Thelymitra matthewsii
*(CR) denotes Critically Endangered
Project activities
Several activities have been planned as part of this project including:
1. Plant survival surveys. Mapping fire affected populations will identify the number of surviving plants. This data can be compared with past population estimates to understand the impact of recent fires on orchid populations.
2. Collecting reproduction and herbivory data. Pollinator exclusion experiments will be undertaken to understand which orchid species rely on pollinators for reproduction. Pollination rates will be quantified to determine if pollinators are limiting reproduction in post-fire landscapes. Camera traps will be used to identify what animals are eating orchids and quantify herbivory rates.
3. Seed collection. Seed will be collected at the end of the flowering season for each of the 14 orchid species. This seed will be used for propagation and also stored in seedbanks at the Royal Botanic Gardens Victoria and the Botanic Gardens of South Australia with duplicates where available stored at the Australian National Botanic Garden and the Royal Botanic Gardens Sydney.
4. Mycorrhizal collection. Mycorrhizal fungi will be collected from populations of each of the 14 species and used for propagation with representative samples stored permanently at the Royal Botanic Gardens Victoria and the Botanic Gardens of South Australia.
5. Propagation. For all 14 species symbiotic propagation from seed will be conducted to produce ex situ (off site) collections of 200 adult plants per species. The collections will be maintained at two of the partner botanic gardens.
Orchid Conservation Symposium
The ANPC will be working with project partners to organise an orchid conservation workshop in 2021. This symposium to be held over two days will provide an online forum to increase awareness of the ecology and conservation of orchids amongst practitioners. It will also provide an opportunity to share the project's results and promote networking among the orchid conservation community. A tentative time for the workshop has been set as June 2021 with further information to be released as the project progresses.
Collaborators
This project is made possible by the commitment of our partner organisations:
La Trobe University
The Royal Botanic Gardens Victoria (RBGV)
The Botanic Gardens of South Australia (BGSA)
Hills and Fleurieu Landscape Board (formerly Natural Resources Adelaide and Mount Lofty Ranges)
Parks Victoria
The Australasian Native Orchid Society (ANOS Vic Branch)
The Australian National Botanic Gardens
The Department of Environment, Land, Water and Planning (DEWLP – Victoria)
The Department of Planning, Industry and Environment (DPIE – NSW)
The Native Orchid Society of South Australia (NOSSA)
The Royal Botanic Gardens Sydney
Funding
Funding for this project was provided by the Australian Government's Wildlife and Habitat Bushfire Recovery Program.