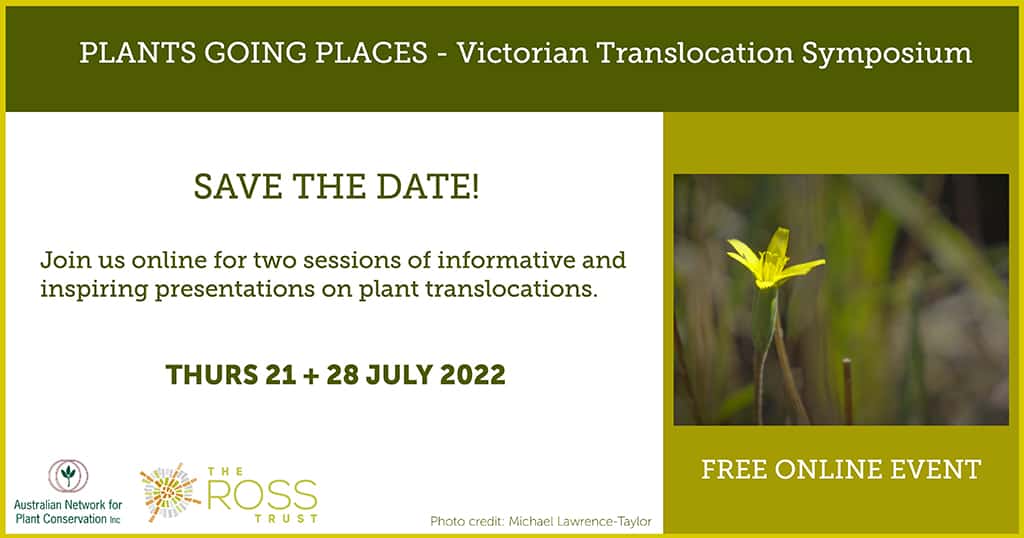 Online Symposium – 21 & 28 July 2022
On Thursday 28 July 2022 we are holding the second half of our symposium on threatened plant translocation in Victoria, based on the ANPC's Guidelines for the Translocation of Threatened Plants in Australia. Everyone is invited to attend this free online events, we just require you to register.
The Symposium will take place over Zoom from 12:30 – 5pm AEST and include presentations from experts and experienced practitioners in plant translocations.
Please download the full program here. We look forward to seeing you online. The recording from the first half of the Symposium held on 21 July 2022 will be available on the ANPC YouTube channel soon.
This event is part of the ANPC's Plants Going Places project, funded by the Ross Trust, which aims to build the capacity for successful plant translocations in Victoria (especially critical to post-fire recovery), increase awareness of threatened plants, help tackle 'plant blindness', and give voice to those people who work in this underappreciated field. Access the project's videos and podcasts here and learn more about the critically endangered Spiny Rice Flower (Pimelea spinescens subsp. spinescens) and Murnong yam daisy (Microseris scapigera). A video and podcast on orchid translocations in Victoria was launched at the Symposium.