Seven Provenance Workshops held across NSW in June and July 2015.
| | |
| --- | --- |
| | The importance of provenance is all about knowledge – knowing where plant seed came from, the site and situation it grew in, and the type and form of the plants. This is all important to the usefulness and value of the seed. (T. Hogbin) |
This project has been assisted by the New South Wales Government through its Environmental Trust.

Over 300 people from a wide range of fields attended a series of seven workshops across NSW to learn and discuss some of the issues of native seed supply management for self-sustaining vegetation communities. The workshop series, co-ordinated by the ANPC and funded by the NSW Environmental Trust, brought together Dr Linda Broadhurst from CSIRO and Dr Maurizio Rossetto from The Royal Botanic Gardens, Sydney to convey the latest lessons and understanding on native plant seed science, genetics and issues of climate change.
The seven workshops were held in Armidale, Lismore, Coffs Harbour, Orange, Yass, Wagga and Mt Annan in western Sydney in conjunction with regional and State Local Lands Services (LLS) offices and staff.
Collation of the workshop evaluations are yet to be completed but there has already been very positive feedback regarding the presentations and format. There have also been suggestions and ideas about the need to extend the knowledge and strategies outlined into more detailed local support workshops to meet regional seed needs and project support.
While issues of plant genetic adaptation to rapid climate change were a feature of workshop discussions, there was also much concern raised on the resilience of regional vegetation programs to rapid funding declines. One consistent theme was that of investing limited resources into quality assurance of genetic seed supply as a direct means of ensuring quality vegetation outcomes rather than just quantitative measures.
Electronic versions of the presentations are to be distributed to all participants and LLS offices and are available on request.
While some workshops were oversubscribed every effort will be made to follow up those that were unable to attend and look at the possibility of future workshops.
ANPC would particularly like to thank the presenters Linda and Maurizio on the huge commitment and effort in time and travel to deliver the workshops. We would also like to thank the regional LLS staff in reaching their many and varied networks and interested parties and arranging venue and catering. We look forward to working further with you all in the future and in establishing closer ties to meet your regional vegetation goals.

Workshop Presentations
Please refer to the ANPC flickr account to view additional images taken during the workshops.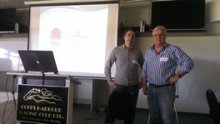 Dr Maurizio Rossetto from the Royal Botanic Gardens, Sydney (left) with ANPC Project Manager Martin Driver @ the Coffs Harbour
Provenance Workshop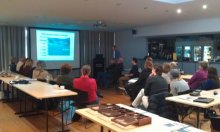 Participants at the Yass Provenance Workshop. (J. Lynch)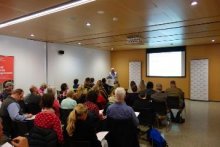 Martin Driver presenting at the Mt Annan Provenance Workshop. (Greater Sydney LLS)
Workshop dates and locations were as follows:
Location / Town
Date
Time
Local Land Services Host Contact
Armidale
16 June 2015
9.30am-3.30pm
Ivan Lackay – Northern Tablelands LLS
Lismore
18 June 2015
9.30am-3.30pm
Jai Sleeman – North Coast LLS
Coffs Harbour (this additional workshop was funded by North Coast LLS)
19 June 2015
9.30am-3.30pm
Jai Sleeman – North Coast LLS
Orange
22 June 2015
9.30am-3.30pm
Martin Prestidge – Central Tablelands LLS
Yass
24 June 2015
10am-4.30pm
Melissa Henry – South East LLS
Wagga Wagga
30 June 2015
9.30am-3.30pm
Rob Kuiper – Riverina LLS

Natasha Lappin – Murray LLS

Sydney
2 July 2015
9.30am-3.30pm
Bill Dixon – Greater Sydney LLS
For further information on the Provenance Workshops, please contact Martin Driver, ANPC Project Manager by phone on 0400170957 or email.