A hugely successful WA Threatened Plant Translocation Workshop was held on Thursday 14 March 2019 at the Department of Biodiversity, Conservation and Attractions (DBCA) in Kensington, Perth.
Twelve speakers from DBCA and 51 participants joined ANPC Project Manager Lucy Commander in presenting various aspects of the translocation process. Margaret Byrne, Director Executive Director, Biodiversity and Conservation Science started the morning by giving an introduction. Lucy gave an overview of recently published Third edition of the ANPC's Guidelines for the Translocation of Threatened Plants in Australia, which was produced with funding from the National Environmental Science Programme's Threatened Species Recovery (TSR) Hub.
Colin Yates spoke about ecology of threatened flora followed by Juliet Wedge who highlighted the importance of taxonomy. Andrew Crawford spoke on collecting and storing seeds, Shane Turner described seed biology and nursery propagation, then Eric Bunn explained micropropagation and cryobanking.
ANPC committee member and leader of the TSR Hub's project 4.3 David Coates spoke about the importance of considering genetics when planning translocations. Melanie Smith explained WA policy, legislation and approvals process and Tanya Llorens provided tips on how to prepare a translocation proposal, as well as giving a sneak peek of the new translocation proposal, which is based on the template provided in the ANPC Translocation Guidelines. It's wonderful to see that the Guidelines are already assisting the improvement of Translocation processes in WA.
Leonie Monks, who has been implementing translocations for over two decades, spoke on implementing and assessing translocations. Carole Elliott and Siegy Krauss gave case studies based on their research, on translocation in the mining sector, and the long-running Grevillea scapigera translocation.
Andrew Crawford led a tour through the Threatened Seed Centre, which supports many WA translocations. We finished the day with a lively panel discussion, to talk about issues in threatened plant conservation and translocation practice. Several current and former ANPC committee members were in attendance at the workshop.  Many people travelled from regional areas across the state to attend the workshop, and there was ample time for networking. Selected presentations will be available on the ANPC website.
Thanks to DBCA for their support for the workshop, and the TSR Hub for their support in producing the Translocation Guidelines.
For more information, please contact Lucy Commander on this email.
Presentations:
Lucy Commander – Plant translocation in Australia, and an overview of the ANPC Translocation Guidelines [PDF] 
Shane Turner – Nursery propagation and seed biology of threatened flora for translocation. [PDF]
More presentations coming soon….
Purchase your copy of the Translocation Guidelines here!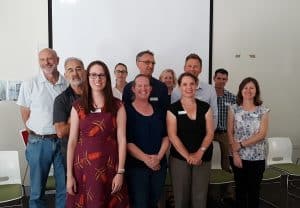 Speakers at the WA Threatened Plant Translocation Workshop, from left to right: David Coates, Eric Bunn, Lucy Commander, Melanie Smith, Carole Elliott, Siegy Krauss, Juliet Wedge, Leonie Monks, Colin Yates, Andrew Crawford and Tanya Llorens. (Photo: Helena Mills)
.