Strategies and guidelines for developing, managing and utilising ex situ collections
Third Edition, 2021
Editors: A.J. Martyn Yenson, C.A. Offord, P.F. Meagher, T. Auld, D. Bush, D.J. Coates, L.E. Commander, L.K. Guja, S.L. Norton, R.O. Makinson, R. Stanley, N. Walsh, D. Wrigley, L. Broadhurst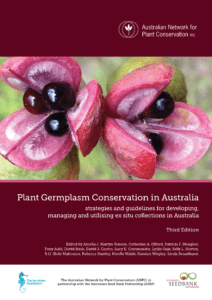 The brand new, third edition of the Germplasm Guidelines is now available!
Click here to download a PDF of the Germplasm Guidelines
The Germplasm Guidelines are a joint publication of the Australian Network for Plant Conservation and the Australian Seed Bank Partnership, funded by The Ian Potter Foundation.
The Guidelines were launched by Prof. Tim Entwisle at the virtual Australasian Seed Science Conference on 7th September 2021.
See Project Manager Dr Amelia Martyn Yenson and ANPC President Dr Tony Auld discuss why the Guidelines were updated and what's new in this edition.
This joint publication by the ANPC and the Australian Seed Bank Partnership is the third edition of this practical, science-based handbook for ex situ (off site) conservation of plant material (germplasm).
Production of the third edition was a collaborative and inclusive project, with 78 contributors from seed banks, botanic gardens, organisations, including CSIRO and universities throughout Australia with additional contributors from New Zealand, the US and the UK.
Contents
Foreword by Dr Paul Smith, Secretary General, Botanic Gardens Conservation International
Chapter 1: Introduction.
Chapter 2: Options, major considerations and preparation for plant germplasm conservation.
Chapter 3: Genetic guidelines for acquiring and maintaining collections for ex situ conservation.
Chapter 4: Seed and vegetative material collection.
Chapter 5: Seed banking: orthodox seeds.
Chapter 6: Identifying and conserving non-orthodox seeds.
Chapter 7: Seed germination and dormancy.
Chapter 8: The role of the plant nursery in ex situ conservation.
Chapter 9: Tissue Culture.
Chapter 10: Cryopreservation.
Chapter 11: Living Plant Collections.
Chapter 12: Isolation, propagation and storage of orchid mycorrhiza and legume rhizobia.
Chapter 13: Special collections and under-represented taxa in Australasian ex situ conservation programs.
Chapter 14: Risk management and preparing for crises.
Chapter 15: Maintenance, utilisation and information storage.
Includes 50 case studies to highlight the processes and outcomes of ex situ plant conservation in action.
A handy companion to the 'Guidelines for the Translocation of Threatened Plants in Australia' (Third Edition).
The Second Edition of 'Plant Germplasm Conservation in Australia' (2009) is still available in both hard copy and e-version.
TROUBLESHOOTING | TERMS & CONDITIONS