To find out about: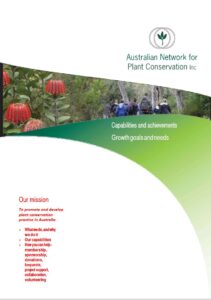 What we do and why we do it
Our capabilities
How you can help – membership, sponsorships, donations, bequests, project support, collaboration, volunteering.
Please don't hesitate to contact us if you have any questions.
We are also holding the 13th Australasian Plant Conservation Conference in 2022. This in person event will be hosted in Albury, NSW  from 3-7 April 2022.
With the overall theme 'Seeds to Recovery' presentations, workshops and field trips will cover such topics as recovery of native plants and vegetation after fire, and native seed supply.
The biennial Australasian Plant Conservation Conference is the premier event in Australia to discuss native plant conservation issues.
Please look at our Partnership Opportunities page to see how you can partner with the ANPC to support this event.
To see our list of partners for APCC13 head to our Partners page.