Australasian Plant Conservation (APC) – the quarterly bulletin of the Australian Network for Plant Conservation (ANPC) – is a forum for information exchange for all those involved in plant conservation,  whether in research, management, or on-ground practice, and where they can share their work with others. Each issue contains a range of articles on plant conservation issues, usually on a particular theme, which reflect the interests of the range of ANPC's membership. However, off-theme articles are welcome at any time. Regular features include lists of the latest relevant publications, membership profiles, Australian Seed Bank Partnership news, and conference and workshop reports.
APC publishes articles from the breath of fields that inform plant conservation in Australalasia, including, but not limited to, ecology, botany, conservation biology, aquatic botany, bryology,  mycology, restoration, horticulture, social science (e.g.,community environmental management), natural resource management and environmental policy.
The role of APC is to provide a common forum accessible to scientific researchers, land and natural resource managers and ecological consultants, and community practitioners. APC is a great way for scientists to communicate their findings to practitioners, and conversely for practitioners to report their work and practical issues in a scientific forum; an important part of APC's role is to provide an avenue for practitioners with limited or no scope for publication in their field. Student and trainee papers are encouraged, as are papers from our Australasian neighbours (e.g., New Zealand, Papua New Guinea, New Caledonia). To the extent possible, and with the exception of policy articles, we prefer material which includes at least indicative results and some attempt to identify generalisable results (not simply 'we did this', but 'here's what it means in our situation').
APC is not a 'peer-reviewed' journal, but it is edited to a high scientific and technical standard, in liaison with authors as necessary. We seek to operate at the interface of the science and management of plant conservation, publishing information which can be applied to improve plant conservation.
We ask authors to keep our broad readership in mind – we seek articles that are as far as possible 'plain-English', without being dumbed down.  Please take space in your draft to briefly explain (rather than assume) technical terms or concepts, or local situations, that may be unfamiliar to other sections of the readership. Please discuss with the editor if in doubt.
APC is published quarterly, and is provided free to ANPC members within Australia and worldwide as part of their subscription.
SUBMIT TO APC
Share your plant conservation work with others!
| Issue | Date | Theme | Call for papers | Deadline for articles |
| --- | --- | --- | --- | --- |
| 27(4) | Mar-May 2019 | Papers from the 12th Australasian Plant Conservation Conference | December 2018 | Closed |
| 28(1) | June-August 2019 | Translocation of threatened plants – Part 4 | March 2019 | 1 May 2019 |
| 28(2) | September – November 2019 | TBA | June 2019 | 1 August 2019 |
| 28(3) | December 2019-February 2020 | "The students' issue" | TBA | TBA |
Although each issue has a guiding theme, articles and reports relevant to plant conservation in general are, as always, welcomed.
If you are intending to submit an article or wish to discuss the possibilities, please email the Editor Heidi Zimmer.
We also welcome:
reviews of books.
titles of interesting recent publications or resources, and where they can be found.
conference, workshop, course and fieldwork announcements.
details of relevant publications, information resources and websites.
APC Instructions for authors
Please download the APC instructions for authors document which provides guidelines on the APC style and scope, including how to quote references.
You also need to submit an APC article submission form. (Word version available here.)
Email your article to the Editor here.
Article Template
Please download and apply your text to the article template provided.
Articles generally should not exceed 1200 words (500 words for reviews and short communications) and authors are encouraged to submit two or three images to illustrate their article, at as high a resolution as possible (but at least 300 dpi), and as separate jpeg, tif or gif files – not embedded in the text.
For translocation themed issues of APC, we also provide a translocation case study template.
Images and attachments
All images, graphs, charts and/or illustrations must be provided separately;
Please do not embed your images within your article, these must be provided as a separate file;
Please ensure your article contains the reference details (text only) to the image file name i.e. .
ADVERTISE IN APC
Promote your organisation or business to ANPC members. Full colour advertising is now available throughout APC! Please see our advertising rates for 2018. All fees received help contribute towards the costs of printing and distributing APC.
SUBSCRIBE TO APC
Australasian Plant Conservation is sent to ANPC members four times a year. When you have become a member, you will receive the previous two issues of APC for the calendar year you join.
APC INDEX
See the list of APC bulletins here from the present back to 1995, with a limited number of articles available to display. You can download a copy of all articles from APC Volume 13 Issue 1 to the present from Informit at a cost of $4.00 per article.
APC Editor – Dr Heidi Zimmer
Heidi Zimmer is a Senior Scientist at the NSW Office of Environment and Heritage. She has worked with universities and government, at the interface of science and management of ecosystems including grasslands, woodlands and rainforests. She has conducted research into ecology of native gymnosperms (particularly Callitris spp. and the Wollemi pine), vegetation recovery after the Black Saturday Bushfire and dendrochronological studies of forests in Papua New Guinea and Thailand. She is currently working on IUCN extinction risk assessments for NSW plant species, threatened plant species translocation, and improving flora monitoring methods.
Featured articles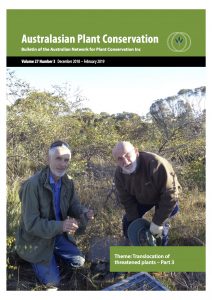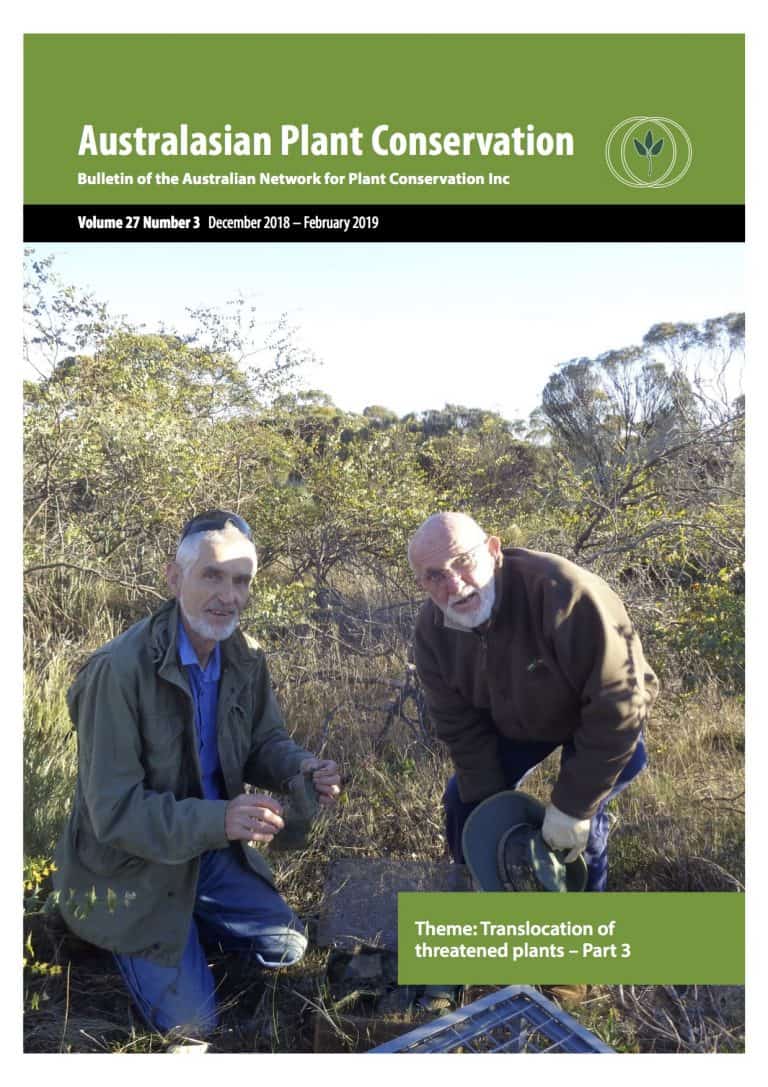 Threatened plant translocation case study: Grevillea scapigera (Corrigin Grevillea), Proteaceae. By Bob Dixon and Siegy Krauss (Australasian Plant Conservation 27(3): 22-25).
The Corrigin Grevillea was first collected in 1954, and has been known from only 13 small, mainly degraded roadside populations restricted to a 50 km radius area around the Wheatbelt town of Corrigin in Western Australia. The Wheatbelt region has been extensively used for agricultural purposes and over 94% of its 14 million hectares has been cleared. In 1986 the Corrigin Grevillea was presumed extinct. In 1989 a single grafted plant was identified in Royal Botanic Gardens Sydney and was brought to Kings Park in Perth where it was initiated successfully into in vitro culture. The following year, naturally occurring plants were discovered near Corrigin, and at the time, up to 35 living specimens were known in the wild. Due to its rarity, the destruction of its habitat, the extreme vulnerability of degraded and isolated roadside remnant populations and the low ability of the species to regenerate on its own, translocation was determined to be critical for the survival of the species in situ…. [Full text PDF].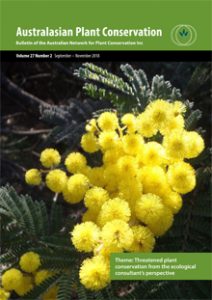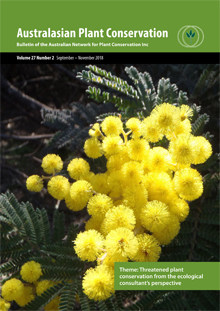 The responsibilities of ecological consultants in disseminating outcomes from threatened species surveys: a call to arms. By Stephen Bell (Australasian Plant Conservation 27(2): 3-6).
Ecological consultants are often in the enviable position of being paid to botanically explore and seek out threatened plants. Yes, there are attractive jobs in remote or pristine locations where few botanists have trod before, but there are also less desirable projects in weed-infested remnants across highly fragmented landscapes or in heavily urbanised environments. Both offer the potential to uncover important information on threatened plants. But are we, as consultants, fulfilling our responsibilities for the cause of conservation by disseminating the outcomes of threatened species surveys and monitoring? …. [Full text PDF]