11th Australasian Plant Conservation Conference (APCC11) 2016


GOLD SPONSORS
'New Approaches to Plant Conservation Challenges in the Modern World'.
La Trobe University and the Australian Network for Plant Conservation (ANPC) were pleased to present the 11th Australasian Plant Conservation Conference (APCC11) held from the 14th – 18th November 2016 at the Royal Botanic Gardens Victoria, Melbourne.
NEW! As part of the conference, the organising committee developed a Rare Plants Virtual Issue of the Australian Journal of Botany which brings together papers from previous issues of the journal to highlight three important research areas for plant conservation and recovery – genetics, ecology and ex-situ conservation. Download the virtual issue here.
Nick Williams from the University of Melbourne spoke about green roofs at APCC11:
Featuring the 12 threatened Victorian plants promoted by APCC11, to highlight some of the many endangered species that have limited profiles in Victoria from a research and funding perspective. Only $10.00 for ANPC Members! (+ $5.00 postage and handling within Australia). Christmas orders close by 5pm Friday 16 December. All profits from the calendars will be directed towards ANPC projects aiming to raise community awareness of threatened plant species and endangered ecological communities.
APCC11 brought plant conservation scientists and practitioners together to discuss how best to approach the key threats to plant conservation in Australia. There were presentations on the latest findings relevant to plant conservation and native vegetation rehabilitation, field trips demonstrating plant conservation in action, social activities to enhance networking, and a seed industry workshop to identify the key issues, gaps and opportunities in the Australian native seed industry and regional seed supply chains.
'An increased understanding of the current and potential future impacts of climate change will significantly influence the practice of conservation in Australia. While the challenges remain the same – how to deal with habitat loss, how to recover small populations, how to connect habitat – it is clear that restoration goals, extinction risk assessments and species translocations have all been re-imagined in the face of climate change. New approaches to plant conservation are now available to practitioners and in this conference, we want to explore the ways that plant conservationists are dealing with the modern challenges of protecting Australian plant diversity'.

SILVER SPONSOR
Registrations closed Friday 28 October

BRONZE SPONSOR
Seed survey and workshop information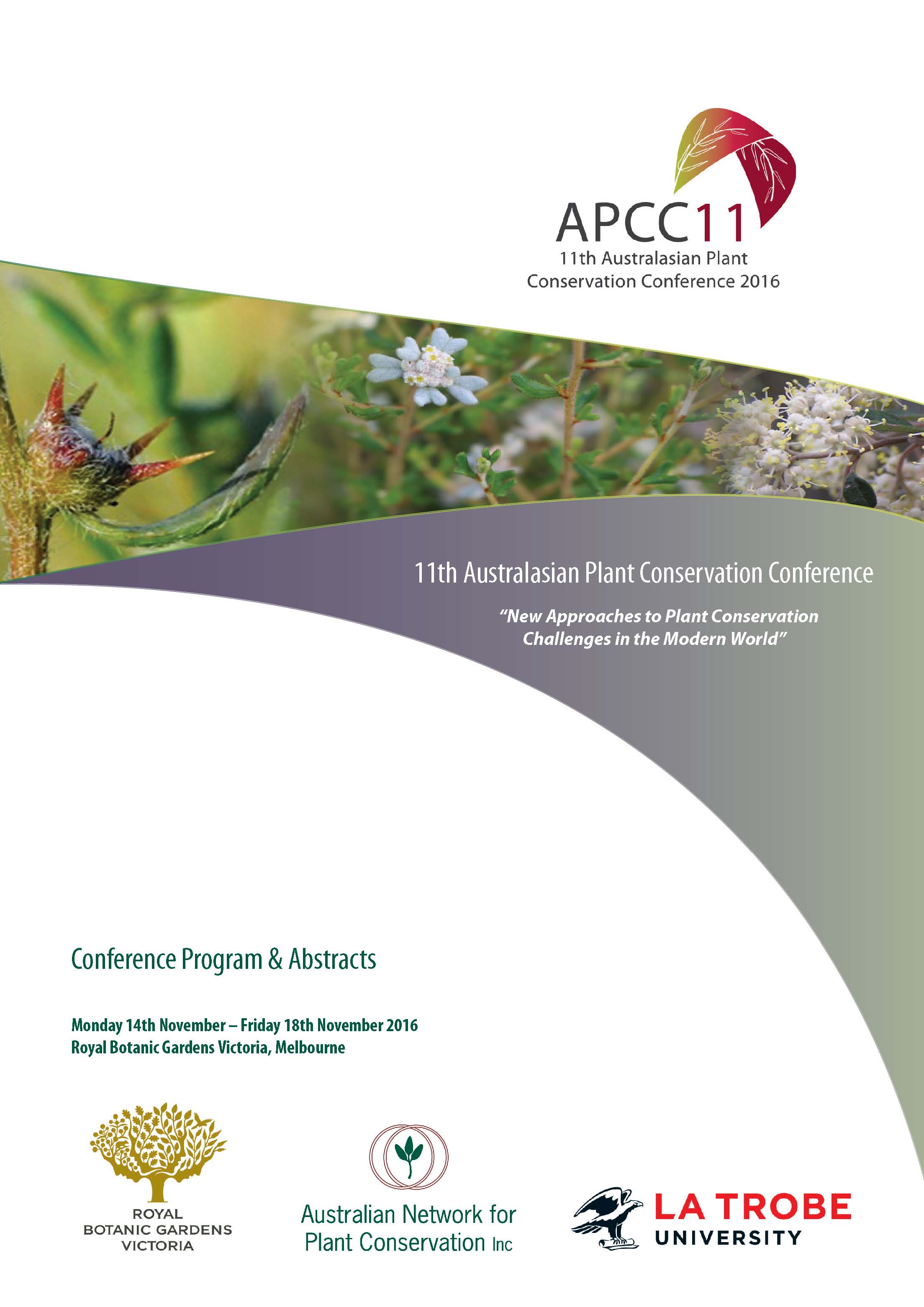 Six session themes:
Assisted colonisation as a practical tool for climate change mitigation.

Conservation for people and nature: how do we maximise the benefits for both?

Rethinking landscape restoration: seed production, provenance, conservation planning.

Holistic conservation: the role of mutualisms in ensuring functional ecosystem recovery (eg. pollinators, soils).

Rescuing small populations from extinction.

New challenges, emerging ideas.
More information on each theme is available here.
                    
FIELD TRIP SPONSORS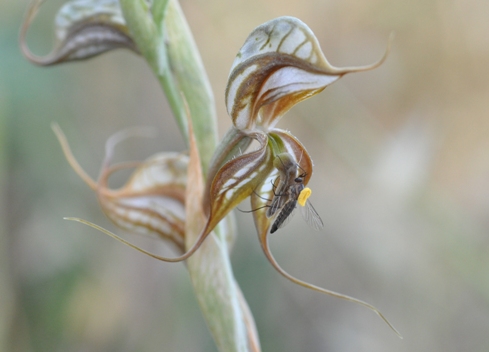 To highlight some of the many endangered species that have limited profiles in Victoria from a research and funding perspective, APCC11 is promoting 12 threatened plants from across Victoria, including Pterostylis basaltica (Basalt Rustyhood). (N. Reiter)
CATERING SPONSOR                       STUDENT PRIZES SPONSOR
KEYNOTE SPEAKER: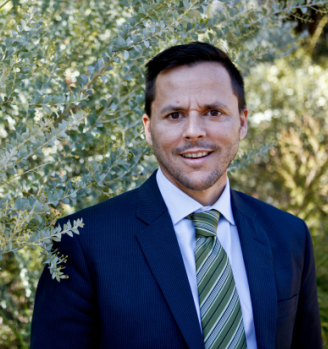 Gregory Andrews
Commonwealth Threatened Species Commissioner
'The Australian Government's Threatened Species Strategy and the 30 plants we will save from extinction'
Gregory Andrews is Australia's first Threatened Species Commissioner. He was appointed to bring a new national focus to conservation efforts and address the growing number of species in Australia facing extinction. The Commissioner's role is to consult on, and raise awareness and support for, threatened species in the community. Before taking up the this position, Gregory was managing implementation of natural resource management programmes and was responsible for over $100 million of investments, including protecting the Tasmanian devil and threatened birds. Gregory has previously worked on social and Indigenous policy reform and has twice taken leave to work on Indigenous community development issues, including with the Northern Land Council in Kakadu and West Arnhem Land where he assisted and supported the traditional owners with land management decisions. Gregory began his career with Australia's Department of Foreign Affairs and Trade in 1991 and has been on postings to China and Japan. When in China, Gregory worked on environmental issues including negotiating a bilateral agreement to protect habitat for migratory bird species. Gregory graduated with first class honours in Economics (majoring in Environmental Economics).
PLENARY SPEAKERS: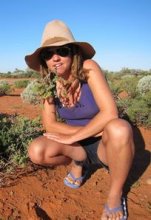 Dr Jen Silcock
Postdoctoral Research Fellow
Centre for Biodiversity and Conservation Science
National Environmental Science Programme – Threatened Species Recovery Hub
University of Queensland
'Lost in the desert or Red Hot? A botanical tour around Australia, beginning on the Paroo River'
Download Jen's conference abstract here.
I have spent the past decade scouring Australia's so-called 'dead heart' for rare plants, lost springs and desert hallucinogens, tracking the paths of forgotten bearded explorers, and seeking obscure pieces of local history, insights into grazing impacts and the elusive perfect camp site. Having trekked hundreds of kilometres through sand dunes, stony hills and beguiling shrublands and worn out many pairs of cheap thongs, I have recently been lured to the city to take up a post-doctoral research position at the University of Queensland, identifying Australia's 100 most imperilled plant species and reviewing plant reintroduction programs across Australia. This work aims to provide a clear picture of plant conservation in Australia and guide directions for future work, but given half a chance I can be found wandering the inland and becoming lost in quadrats and mirages.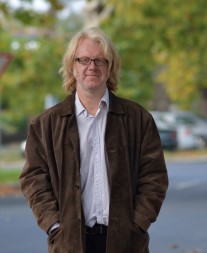 Dr David Kendal
Postdoctoral Research Fellow
National Environmental Science Programme – Clean Air and Urban Landscape (CAUL) Hub
University of Melbourne, Burnley Campus
'How do people think about plants, and why is this important for plant conservation?'
Download David's conference abstract here.
I am an interdisciplinary scientist drawing on social psychology, ecology and horticulture to better understand the vegetation we live with, why we manage ecosystems the way we do, and what the general public thinks about green spaces and the way we manage them. I collaborate extensively with other researchers, students, government and industry to answer questions that can help improve the landscapes and ecosystems we live with. I have been working at the Clean Air and Urban Landscape Hub since 2016. After completing my PhD in 2011, I worked at the Australian Research Centre for Urban Ecology, a division of the Royal Botanic Gardens Victoria. I am currently a member of the federal Threatened Species Scientific Committee.
Dr Paul Gibson-Roy
Chief Restoration Ecologist
Greening Australia, NSW
'An Australian's first hand observations of the US seed production and restoration sectors'
Download Paul's conference abstract here.
Paul has been interested in grassland restoration since an undergraduate at Burnley College,
Melbourne University in the mid-1990s. Following his PhD, which focussed on the restoration of diverse grasslands, he established the Greening Australia/Melbourne University partnered Grassy Groundcover Research Project (GGRP), which focussed not only on developing grassland restoration techniques, but on the issue of seed resourcing, in particular through the use of native seed production crops. In recent years Paul has worked with Greening Australia in the western Sydney region to establish seed production capacity required to assist in restoring critically threatened Cumberland Plain Grassy Woodland. In 2016 Paul was a recipient of a Winston Churchill Memorial Trust Fellowship which allowed him to tour the US to investigate native seed production and prairie restoration. His presentation will detail that tour. He will describe the systems used to procure, grow and process native seed, and the scale and structure of native seed production enterprises. He will also reflect on the restoration outcomes made possible by this seed supply chain. Finally, he will discuss the market drivers, which together make possible a seed production and restoration industry that far exceeds that which currently exists in Australia. In many cases, the outcomes are nothing short of extraordinary.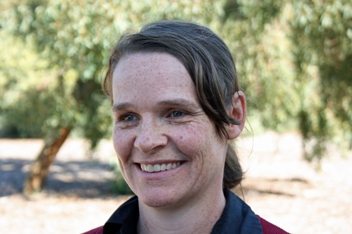 Ms Leonie Monks
Research Scientist
Department of Parks and Wildlife, WA
'Translocation principles and practice: opportunities and challenges for threatened plant recovery'. Download Leonie's conference abstract here.
I am responsible for planning, implementing and monitoring translocations of threatened plant species across the south west of Western Australia. Research integrated into these translocations aims to improve success through refining planting and post-planting techniques and to investigate different methods of measuring the success of these translocations. I am one of the authors of the ANPC Guidelines for the Translocations of Threatened Australian Plants as well as the Center for Plant Conservation Best Reintroduction Practice Guidelines. I have recently started a PhD at Murdoch University examining aspects of translocation success with the aim of improving the likelihood of successful translocations in the future.
                                                CONFERENCE BAG SPONSORS
Venue
APCC11 was held at the Royal Botanic Gardens Victoria, Melbourne in the Mueller Hall at the National Herbarium of Victoria and at nearby Domain House. Download gardens map here.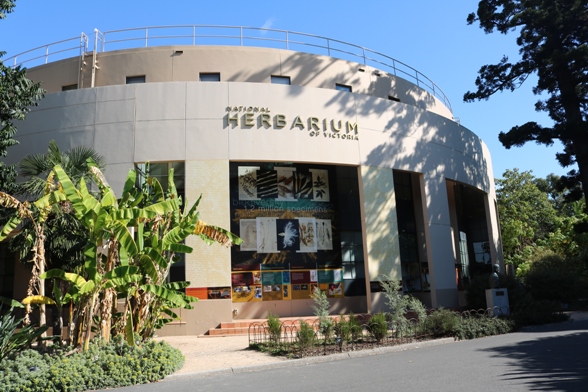 The Conference Organisation Committee members were:
Dr John Morgan (Plant Ecologist, Department of Ecology, Environment and Evolution, La Trobe University)
Ben Zeeman (PhD student, La Trobe University)
Dr Susan Hoebee (Lecturer, Department of Ecology, Environment and Evolution, La Trobe University)
Dr Trevor Edwards (Lecturer, Department of Ecology, Environment and Evolution, La Trobe University)
Dr Susanna Venn (Honorary Research Fellow, Department of Ecology, Environment and Evolution, La Trobe University)
Dr David Cantrill (Chief Botanist and Director, Plant Sciences and Biodiversity Division, Royal Botanic Gardens Victoria)
Dr Linda Broadhurst (President, Australian Network for Plant Conservation)
Dr Paul Gibson-Roy (Committee member, Australian Network for Plant Conservation)
Dr David Coates (Committee member, Australian Network for Plant Conservation)
Jo Lynch (Business Manager, Australian Network for Plant Conservation)
Martin Driver (Project Manager, Australian Network for Plant Conservation)
Karina Salmon (Western Plains Flora)