Seed Collection Workshops at Broken Hill and Menindee in the Western Region of NSW – Saturday 9 and Sunday 10 April 2016
The ANPC's Project Manager Martin Driver delivered two workshops on seed collection, storage and use for native vegetation projects in Broken Hill and Sunset Strip over the weekend of 9 and 10 April 2016. The two workshops were supported by Western Local Land Services through funding from The National Landcare Programme. The workshops were facilitated by the Regional Landcare Facilitator for Far West NSW, Susannah Sage, in association with Broken Hill Landcare and Sunset Strip Progress Association Inc – Lake Menindee Landcare who were interested in learning about ways they can still undertake Landcare activities while they are unable to undertake regular community tree planting days due to water restrictions.
The workshops were based on the ANPC's Germplasm Guidelines and the FloraBank Guidelines for Seed Collection and Storage and were attended by a range of stakeholders involved in plant conservation, bush regeneration and land management activities, with 29 participants attending over the two workshops. Learning was through a combination of discussions surrounding the theory of seed collection and storage, small practical demonstrations and examples from different case studies.
Martin gave an introduction to plant identification, timing of seed ripening, seed collecting and different methods of seed collection, seed storage and using seed for native vegetation projects as well as provided an overview of seed germination and dormancy. Martin also provided an overview of how to develop a seed collection strategy both on a local and regional scale. Martin has over 35 years experience in native vegetation management and reclamation and has helped establish and operate several large scale seed banks as well as deliver direct seeding vegetation enhancement projects across the state.
"Supply and demand are out of sequence when it comes to native seed" said Martin. "It would be greatly beneficial for Landcare Groups to have a simple seed collection strategy to ensure the seed is available when required. The needs of the community need to be identified and it is important to consider collecting the right seeds at the right time." Eventually, a regional strategy for seed supply would be greatly beneficial to the Western Region of NSW, which does not currently have a native seed bank. A lack of a seed bank that contains species that are locally endemic to the Broken Hill and Menindee areas, and the lack of co-ordination that goes with it, means that there is little or  no native seed available for local bush regeneration and rehabilitation projects in the area when the opportunity and funding is available. This situation is actually the case across much of regional NSW.
This led to discussion about the needs of state and regional strategies through LLS to support and coordinate seed supplies and the need for further workshops on field identification of locally native plants and understanding their ecology and management in the arid landscape. The workshop feedback has been very positive with several participants already out and using their newfound observation skills in identifying stages of fruit and seed development in various plant groups while out walking in the hills around Broken Hill.
If you would like to organise or participate in plant identification, seed collection, or other vegetation management workshops tailored to your or your group's needs in your region, contact the Regional Landcare Facilitator in your area to discuss opportunities or contact Martin Driver at the ANPC. For the Local Land Services Western Region (West) the Regional Landcare Facilitator is Susannah Sage Email 08 8082 5205. ANPC Project Manager, Martin Driver can be contacted by email or phone on 0400170957.
NOTE- There are at least three ANPC plant identification/ seed collection workshops to be held in the wider Riverina area this year in conjunction with the NSW Environmental Trust, Landcare and LLS . For more information contact Martin Driver.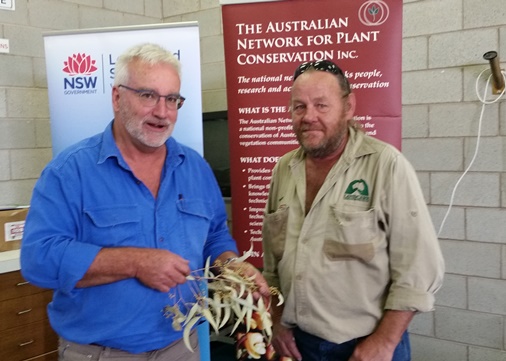 Martin Driver (left) and Wayne Lovis from Broken Hill Landcare at the Seed Collection Workshop. (Susannah Sage)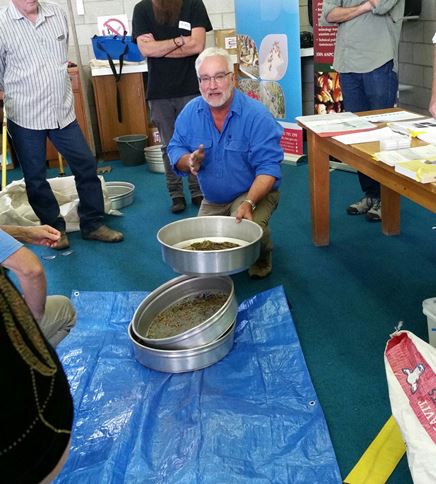 Martin Driver demonstrating simple seed separation techniques at the Broken Hill Seed Collection Workshop. (Susannah Sage)