Tarcutta Valley Landcare Property Walk – Wednesday 15 June 2016

SOMETHING FOR EVERYONE
Over twenty five landholders and land managers attended this vegetation management property walk held at Liz McCallum's property, Tintenbah, at Humula (near Tarcutta in southern NSW), looking at the benefits of retaining native plants on private property, how to identify native plants and how to manage them to benefit productivity. The day was part of a series across the wider Riverina co-ordinated by the ANPC and funded by the NSW Environmental Trust in conjunction with Tarcutta Valley Landcare Group, Murrumbidgee Landcare Inc. and Riverina Local Land Services.
The day was launched and outlined by Maddy Gorham, Murrumbidgee Local Landcare Coordinator. Martin Driver, ANPC Project Manager, then gave a brief summary of the range of resource materials available to identify locally native plants in the area. He then demonstrated an easy way to use the local South West Slopes Vegetation Guide to help identify plants listed in the area. This was followed by a display of over eighteen trees and shrubs collected on the immediate roadsides, demonstrating the diversity of what would have naturally occurred in the valley but many of which are now at risk and only represented on Travelling Stock Routes, roadsides and cemeteries and other managed areas on farms. These included several species of Daviesia, Pultenaea and at least four other peas, seven Acacia species, two Heaths and a Grevillea found only on high road cuttings.
Matt McGrath, Vegetation Management Officer with Wagga City Council then spoke on his role in vegetation management and integrated weed management and the threat of weed invasions particularly the number of emerging weed species that landholders should be aware of locally, including Spiny Burr Grass, African Love Grass and Rhodes Grass. Matt stressed the importance of vegetation management on roads and reserves as well as their role in the spread of weeds by stock, wildlife and roadside management practises and the need to be alert to emerging weeds on these areas as well as making sure to limit their disturbance.
After light refreshments Janelle Jenkins, Senior Land Services Officer with Riverina Local Land Services (LLS) led the group to inspect two grazed sites of quite different character within the one grazed paddock. Janelle led the group through basic identification of the main grass species and the relative grazing values and resilience response of each and the importance of setting management objectives and grazing strategies. Discussion was held on the values of the mixed native grass pastures and timing of grazing to maintain and optimise both production and persistence relative to various fully improved pasture systems. The merit of paddock subdivision of this paddock was noted to enable more stock control and different outcome responses from the different areas including greater tree regeneration response and shelter in the more protected sites. The fencing of replacement paddock trees was also noted as a worthwhile benefit where regeneration was not occurring naturally under paddock grazing.
Anyone interested in undertaking similar workshops in their area in plant identification, seed collection, vegetation grazing or management can contact Martin Driver or Maddy Gorham. Martin has over 35 years experience in native vegetation management, plant identification, grazing management and restoration ecology.
Martin Driver and Maddy Gorham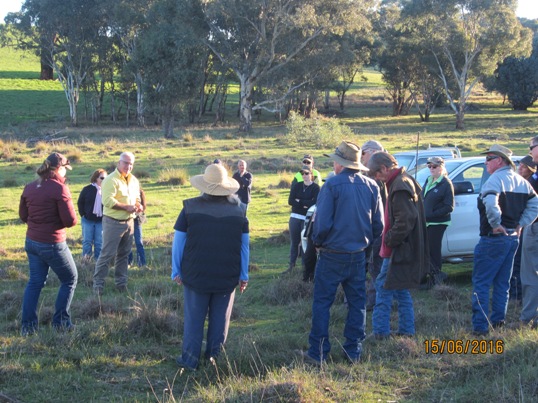 Martin Driver (left in yellow shirt) presenting at the Tarcutta Valley Landcare Property Walk. (S.O'Flannagan)
This field day was assisted by the New South Wales Government through its Environmental Trust.