'Last November, I was honoured to be the keynote speaker at the 11th Australasian Plant Conservation Conference in Melbourne. It was a wonderful opportunity to engage with some of Australia's leading botanists and conservationists and share ideas on preserving our incredible native plants.  Protecting Australia's endangered plants and vegetation communities is one of my highest priorities. In my address, I spoke about the Australian Government's commitment and the innovative approaches being used to protect some of our most vulnerable flora species from extinction.
In 2015, the Australian Government launched our first Threatened Species Strategy based on science, action and partnership. The Strategy has been backed by over $211 million and provides a set of prioritisation principles that guide the work we do. It includes targets to improve trajectories of 30 targeted threatened plant species (see Table 1 below), and to insure all known threatened plants against extinction by 2020. Actions identified to save Australia's threatened plants include seed collection, seed banking, habitat protection and restoration, replanting wild populations and planting conservation collections off site, including in Australia's world class botanic gardens.
Our work has only just begun, but already some impressive results have been seen through community support and Australian Government initiatives such as the Green Army, 20 Million Trees and National Landcare Programmes, and the Australian Seed Bank Partnership. For example, one of our 30 targeted plant species, the Magenta lilly pilly (Syzygium paniculatum), will see its wild population increase by 33 per cent based on the work of just one 20 Million Trees project. Another, the Central Australian cabbage palm (Livistona mariae), has benefited from a $320,000 investment to improve the health of remote waterhole habitats and the work of Green Army teams collecting seeds to grow insurance populations.
While these results are encouraging, we continue to look for new and innovative approaches to leverage support for threatened species conservation. In February the Minister for the Environment and Energy, the Hon Josh Frydenberg MP, launched the Threatened Species Prospectus. This public-private collaboration asks big business and philanthropic organisations to help tackle the fight against extinction. It includes projects to safeguard all 75 nationally threatened eucalypt species and to save Australia's only purple wattle.
Later this year, we will hold an open round for the Threatened Species Recovery Fund. Through this fund individuals and organisations can apply for up to $250,000 for projects that deliver on-ground benefits for threatened species listed under the Environment Protection and Biodiversity Conservation Act.
By working together and continuing to develop new approaches to fighting extinction we can help ensure the future of Australia's iconic plant species. To learn more about these initiatives and find out how you can get involved please visit: http://www.environment.gov.au/biodiversity/threatened/commissioner or my Threatened Species Commissioner social media channels Instagram, Twitter, Facebook and YouTube.'
Gregory Andrews
Australia's Threatened Species Commissioner
ThreatenedSpeciesCommissioner@environment.gov.au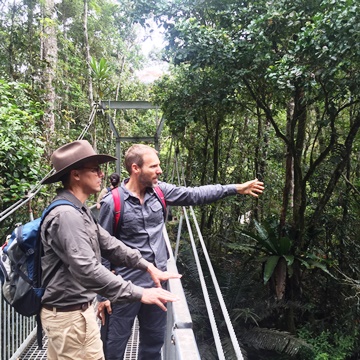 Gregory Andrews with Dr Ashley Field viewing the habitat of the critically endangered Mossman fairy orchid (Oberonia attenuata). (Photo: The Office of the Threatened Species Commissioner)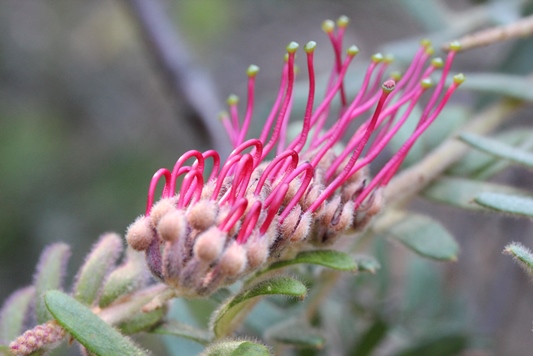 Caley's grevillea (Grevillea caleyi). (Photo: Erin Lake)
Table 1. Australia's Threatened Species Strategy commits to improving the trajectories of these 30 threatened plants by 2020. More information including a factsheet is available at: http://www.environment.gov.au/biodiversity/threatened/species/30-plants-by-2020.
(Published in Australasian Plant Conservation 25(4) March – May 2017)