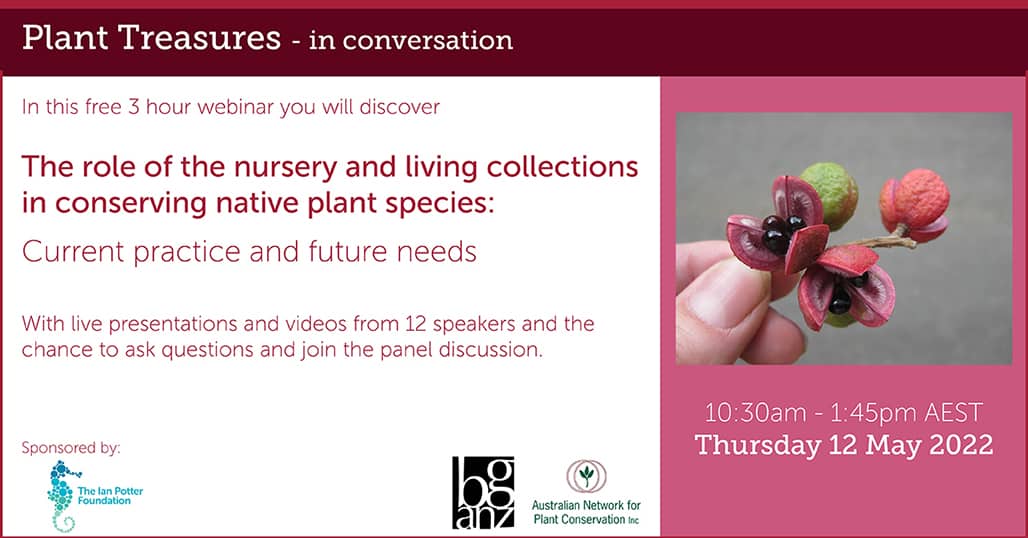 The latest webinar in our series 'Plant treasures – in conversation' was held on Thursday 12 May 2022. This special extended webinar focused on 'The role of the nursery and living collections in conserving native plant species' while highlighting current practice and future needs. You can watch the recording on our YouTube channel here.
The webinar was opened by the Germplasm Guidelines project manager, Amelia Martyn Yenson. John Arnott (Curator of horticulture at the Royal Botanic Gardens Victoria and BGANZ Council Representative for Victoria) then gave a theme introduction before the following presentations and videos:
VIDEO: The role of the plant nursery and living collections in ex situ conservation (John Arnott & Warren Worboys)
Overview of the Germplasm Guidelines (Dr Amelia Martyn Yenson)
VIDEO: Cutting propagation in the conservation nursery (Mandy Thomson)
Trials, Tribulations & Triumphs in Managing a Botanic Gardens Seed Orchard (Lorraine Perrins)
The role of the ANBG nursery and living collections in plant conservation (Dr Zoe Knapp)
VIDEO: Collection, processing and storage of fern spores (Tom North)
Biosecurity considerations in living collections (Amanda Shade)
What we can learn from conservation of crop wild relatives? (Dr Sally Norton)
VIDEO: Using ex situ collections of Australian native species: Translocation and other end uses (Dr Emma Dalziell, Dr Leonie Monks and Dr Andrew Crawford)
The webinar was concluded with a panel discussion facilitated by Michael Elgey (Curator Manager, The Australian Botanic garden mount Annan and BGANZ Council Representative for NSW).
This series is a collaborative project between the ANPC and BGANZ Collections and Records Management Group and is funded by a grant from The Ian Potter Foundation.