Feeling SEEDY in the Hunter 
A native vegetation and seed field day, and direct seeding demonstration was held on Sunday 25 November 2018 on the property "Springdale" in the Upper Hunter Valley. The day was organised by Ashley Bacales as part of the Hunter Councils Nine Valleys Wildlife Corridors Project with the assistance of Hunter Regional Landcare Network, Martindale Creek Catchment Landcare, Hunter Local Land Services and the Australian Network for Plant Conservation and funded through the NSW Environment Trust.
Around two dozen people attended at Martindale Hall and "Springdale" to look at and discuss restoration and revegetation techniques outlined by the ANPC's Martin Driver. These included hand and light hand machine methods and a demonstration of a vehicle towed direct-seeder supplied and operated by Steve Field of Fields Environmental Solutions. Seed for the demonstrations was donated by Greg Major of Future Harvest.
Participants learnt how direct seeding of native feed and fodder species, fencing and appropriate grazing management can create a landscape of abundance and enhance the natural and financial values of their properties. Salt bush, wattles, native grasses – these plants not only cope best with tough soil and climatic conditions, they provide highly palatable feed for farm animals.
The importance of sustainable, diverse (species and genetic ) local seed supplies and seed supply systems to support direct seeding projects was discussed as the first step in being able to cost-effectively get regionally driven large scale corridor restoration projects going. While direct seeding is regularly used in local mine site rehabilitation and in other regions it has rarely been used in the Hunter on private or community diverse species restoration projects, but with trials under local conditions this could represent a cost effective means of revegetating larger areas including Local Land Services Travelling Stock Route restorations. The participants also inspected some regenerating species components of Weeping Myall woodlands, and discussed the importance of planning, fencing and grazing management to retain and extend these species with direct seeding.
The opportunity for future related workshops on seed harvesting, seed production areas, seed processing and treatment and other establishment or management techniques were proposed from the day. Steps are also underway by Paul Melehan to establish an Upper Hunter Landcare native seed supply network to support future projects.
Martin Driver, Paul Melehan, Eva Twarkowski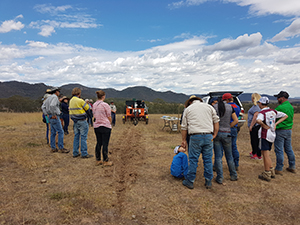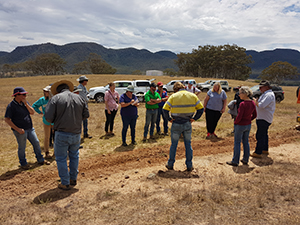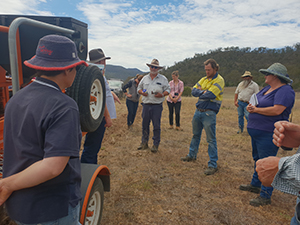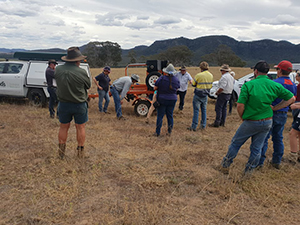 Direct seeding demonstration at "Springdale Farm". (Photos: Martin Driver)
This workshop was held by the Hunter Joint Organisation, funded by the NSW Environmental Trust as part of the 9 Valleys Wildlife Corridor Project and a Lead Environmental Community Group grant, in association with the ANPC, Landcare and Hunter Local Land Services.

Supported by the NSW Government through its Environmental Trust